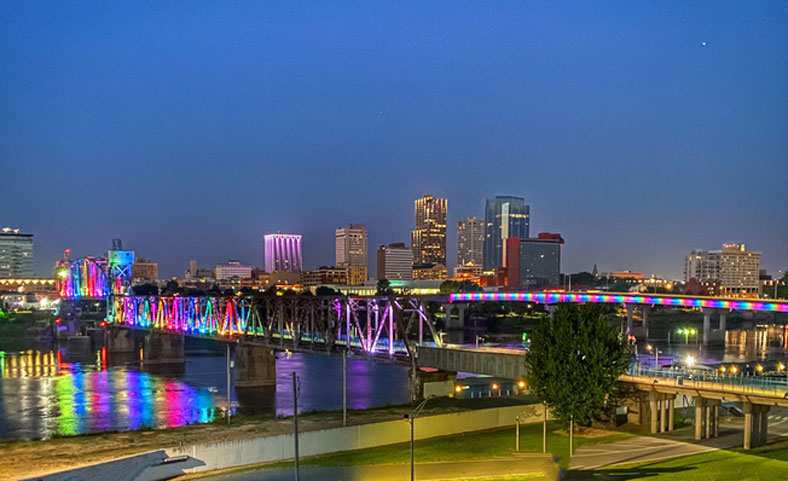 When it comes to career options for supply chain management (SCM) professionals, Arkansas punches well above its weight.
The state is home to five powerhouse companies that lean heavily on the global supply chain, contributing to them being profit leaders in their fields. While Arkansas' GDP came to $165 billion in 2022, the annual revenue of these companies dwarfed that, coming in at $720 billion (as of the third quarter of 2023):
These companies, and many others, take advantage of Arkansas' natural supply chain attributes:
In addition to being the headquarters of world-class companies, Arkansas is also expanding in new directions. In 2023, Exxon Mobile announced plans to build one of the world's largest lithium processing plants in Columbia County. Capable of producing up to 15% of the world's lithium production and providing jobs for approximately 6,000 people, this would put Arkansas on the global supply chain map for this key component of rechargeable batteries.
It's an exciting time to be involved with SCM in Arkansas. Leading companies here are looking for qualified candidates to streamline and expand operations. And the first step to meeting those qualifications is to earn a degree in supply chain management, whether bachelor's degrees to prepare for entry-level roles, or SCM master's and MBA programs for those competing for high level positions.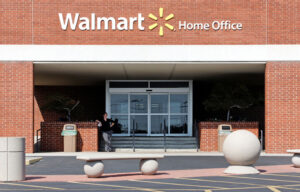 The 2023 Fortune 500 list was announced in June, an event which marked Walmart's dominance at the number-one spot for the 11th consecutive year.
11 years is a long time for Bentonville-headquartered Walmart to weather its challengers. Over that span there was the ice bucket challenge, data became a more profitable resource than oil, the Covid-19 pandemic came and went, Facebook bought Instagram and WhatsApp, and Gangnam Style was a massive hit.
In 2013 Walmart beat out three energy companies for the number-one spot – Exxon Mobil, Chevron, and Phillips 66. In 2023 its three competitors were Amazon, Exxon Mobil, and Apple.
While it's tremendously satisfying on many levels for Bentonville to beat out Silicon Valley year after year, this would not be possible without adept SCM professionals working for Sam's Club.
After all, as a retailer, Walmart is particularly vulnerable to supply chain fluctuations. It's a testament to the skill of its supply chain and logistics team that Walmart has managed to hold the number-one spot for over a decade.
When supply chain crises struck companies across America in 2021 and 2022, Walmart responded by quipping that it has been dealing with volatile supply and demand in the market for over 50 years. Its SCM professionals worked with corporate leadership to mitigate anticipated challenges and respond to issues that cropped up by:
Hiring 20,000 permanent supply chain positions along with over 3,000 additional drivers
Promoting and training thousands of supply chain associates
Ensuring customers have a convenient point of contact when ordering by hiring 150,000 associates
Rerouting inland shipments
Utilizing less conventional transportation methods to avoid delays
Opening new fulfillment center distribution facilities
It's no small feat to continuously outperform the world's leading petroleum and tech companies. That's why Walmart looks for advanced qualifications in its Global Logistics Director of Supply Chain Management in Bentonville.
To apply for this position, you'll need a master's degree in supply chain, logistics, or business. A bachelor's degree in supply chain, logistics, or business is a minimum requirement.
It's often said that the past is the best indicator of future performance, and if so, this makes Walmart and Arkansas one of the best options out there.
What Does a Supply Chain Manager Do in Arkansas?
An undergraduate degree program is perhaps the best SCM introduction you can get. A bachelor's degree in business-SCM covers topics like:
An advanced graduate degree in this field prepares you for SCM leadership positions, going deep into course content you'll refer to throughout your career like:
The nice thing about studying SCM is that the principles you learn as part of your education apply universally no matter what sector you work in, including:
Bay Cities Container is an employee-owned packaging company with a location in Bentonville whose sales professionals and logistics experts move world-recognized name brands from factory assembly lines to customer doorsteps. Supply Chain Managers with this company are preferred to have at least a bachelor's degree in supply chain, business, or project management. Duties associated with this position include:
Because Arkansas has global supply chain connections it's only natural that global companies have a presence here. Denmark's Nilfisk supplies professional cleaning equipment and has a location in Springdale. France's Bonduelle specializes in distributing processed vegetables and has a presence in Bentonville. To work in established SCM positions with either company requires at least a bachelor's degree in a field like supply chain management, logistics, or operations. Traveling the world is one benefit of working for global companies that you don't necessarily have with domestic companies.
And getting back to Walmart, its position for Global Logistics Director of Supply Chain Management in Bentonville involves these duties:
Whatever sector you decide to dive into, a degree in SCM will open career doors and maximize your professional options.
Supply Chain Management Schools – Universities in Arkansas Offering Degrees in SCM Online and On-Campus
Here we show all universities in Arkansas offering SCM degree programs, both online and on-campus. Conduct your own research to find the program that fits your own unique goals.
Arkansas State University
Neil Griffin College of Business
Accreditation: HLC
Online

Henderson State University
Southern Arkansas University
David F. Rankin College of Business
Accreditation: HLC
Campus, hybrid, online