As our world grows more interconnected and businesses have extended their operations across the globe, the industries of shipping and logistics have expanded greatly. This has meant a great rise in opportunities for those working in supply chain management, one that can bode promisingly for people in the field. Indeed, many who enter the logistics industry do so to take advantage of our increasing dependency on shipping and transportation services.
As the field of supply chain management grows, it's imperative that those in the industry work toward closing the gender gap in logistics.
Women have already played a crucial role in the field of supply chain management, even when they have been among the minority in the workforce. But more can be done to create and improve opportunities for women in the field.
In this day and age, more and more women are entering supply chain management, and with numerous examples of female leaders in logistics, there is great reason to be hopeful. However, there is still a good deal of work to be done to continue breaking barriers in supply chain management.
This article explores the opportunities and challenges for women in supply chain management, providing insights for employers and recruiters to make hiring practices more equitable, along with information about diversity initiatives and mentorship opportunities for women in operations, transportation, and related fields.
Women's Role in Supply Chain Management Today
Though stereotypes may lead us to believe that logistics and supply chain management are male-dominated fields, that isn't nearly as true as you might expect. 
A 2021 survey by Gartner found that women comprised 41% of the supply chain workforce – the highest percentage this survey had ever discovered. 
This indicates that women's place in the industry is only growing. However, the same survey found that only 15% of executive leadership roles in transportation, operations, and logistics are held by women. Though promising data was revealed at other levels of leadership – namely, a rise in the promotion of women – this top level of leadership is a final, meaningful hurdle in the way of women's advancement.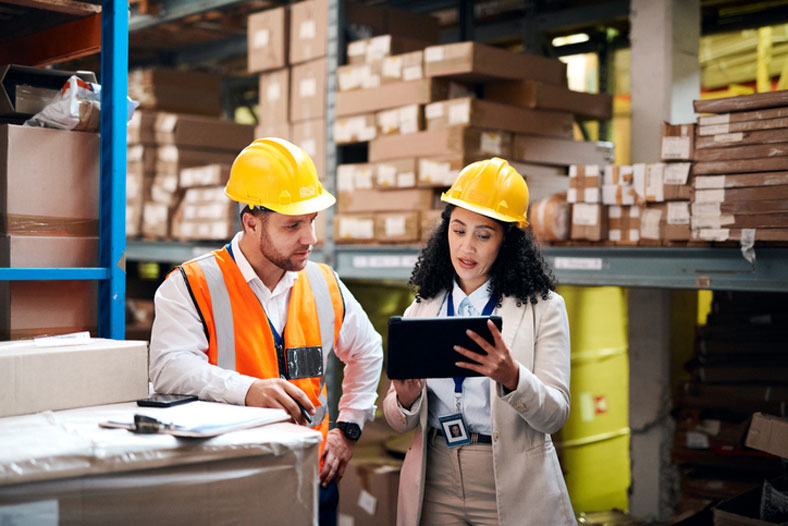 Challenges Faced by Women in Supply Chain Management
Significant progress has been made in recent years to enhance women's empowerment in operations and related fields, but there is still more work to be done to break the glass ceiling across industries. Below are a few of the most significant obstacles women can face when working in logistics.
Women in supply chain management often face stereotypes and prejudices, hindering their professional growth. Logistics, a traditionally male-dominated field, is sometimes unfairly associated with "masculine" characteristics, putting women at an automatic and baseless disadvantage professionally. Overcoming these biases is crucial to creating an inclusive work environment.
Two of the most important arenas in which gender bias can adversely affect women are in hiring and promotion processes. This is why recruiters and leaders play such an important role in improving women's opportunities in the workplace. For more information on how hiring and promotions can be central to women's advancement in the workplace, read the section below.
The underrepresentation of women in leadership positions is a significant challenge for those working in logistics and operations. Having more women in decision-making roles is essential to fostering a diverse and inclusive work culture.
Improving representation can also go far in correcting gender bias. By, for example, promoting women in warehousing, companies will be wordlessly making clear to all employees that women are as skilled and capable as their male colleagues for these roles.
It can be challenging to balance demanding supply chain roles with personal and family life. This is true for men too, and many understand that allowing men more time for childcare and other family-related obligations is also of tremendous help to women in the workforce. Employers need to implement policies that support work-life balance, ensuring that women professionals can thrive both at work and in their personal lives. These include initiatives that are responsive to women's specific healthcare needs.
Limited Mentorship Opportunities
Having professional mentors can provide guidance, support, and valuable insights that can help women build important trade skills and navigate their careers effectively. By the same token, the lack of direct mentorship opportunities for women can impede career progression in supply chain management.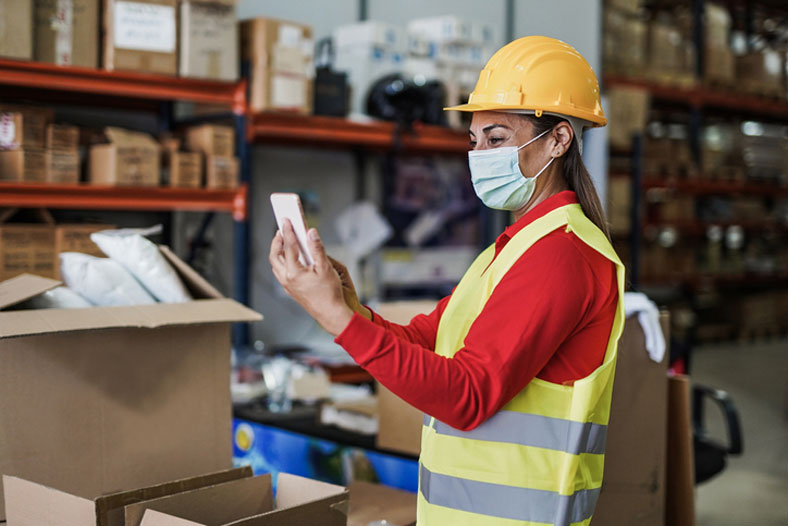 Spotlight: Sheri Hinish, the "Supply Chain Queen"
For women working in the field of logistics who are looking for a role model, one excellent source of inspiration can be found in Sheri Hinish, known by many as the "Supply Chain Queen." A pioneering woman leader in the supply chain field, her example shows the tremendous strides women can make in the industry, as well as the impact they can have on the world at large. 
One only needs to look at Hinish's track record to be inspired. Over the course of her career, Hinish has defined herself as a powerful advocate for gender equality within the industry as well as a champion of sustainable practices. Hinish currently serves as the Global Sustainability Services Lead for IBM, having previously held high-ranking positions at Blue Yonder and Breakthru Beverage Group. She also hosts the Supply Chain Revolution podcast, a politically-focused show on a range of topics that are sure to be illuminating for anyone working in supply chain management.  
One of Hinish's top priorities has been empowering female professionals (in all areas, but none more than those working in her own field). She regularly engages in mentorship programs, knowledge sharing initiatives, and speaking engagements, which provide an opportunity for her to share her expertise with other women working in logistics. This commitment to empowering women not only strengthens the logistics workforce but also contributes to a more inclusive and equitable future for the industry as a whole. 
Beyond her commitment to improving gender diversity in supply chain management, Hinish has spent her career focused on the cause of sustainability. She is a longtime advocate for eco-friendly practices, which she has implemented in the various organizations where she's held a leadership role. These have been game-changing in the world of supply chain management, paving the way for a more conscientious approach to logistics as a field. As a values-driven leader, she has gone beyond merely achieving competency but has carried forward her career with a visionary perspective that has transformed the industry.
If you've been looking for a role model in the world of logistics, Sheri Hinish is a wonderful choice. Her inspiring professional journey and longtime commitment to social causes makes clear that women in leadership roles can do more than simply preserving the status quo – they can change the field, and the world, for the better. 
Fighting for Women's Empowerment in Operations and Logistics
There is no shortage of contributions women have made to the fields of logistics, transportation, and operations. But this has not always meant that they are given equal opportunity.
Leveling out the playing field within the logistics industry cannot simply happen by sitting back; rather, conscientious efforts must be made to advance women in the workplace.
The following practices are ones businesses can incorporate into their company structures to improve women's opportunities in the field.
Diversity and Inclusion Initiatives
Companies must actively promote diversity and inclusion in supply chain management. This means establishing initiatives that focus on creating equal opportunities for women. These can include:
Some companies also require employees to undergo diversity, equity, and inclusion training before starting their jobs. These can be a helpful way of ensuring all employees are on the same page, understanding the expectations and rules of their employer. It is also a way of establishing a workplace culture of gender equality.
As mentioned above, mentorship programs play a pivotal role in empowering women professionals. While some informal, women-started initiatives already exist to provide a more supportive environment to one another, companies can create formal mentorship programs where experienced women leaders guide and nurture the talents of aspiring women in the field. These programs can provide valuable networking opportunities, career advice, and emotional support.
Professional Development Workshops
Organizing workshops and training sessions specifically for women in supply chain management can enhance their skills and knowledge. These workshops can cover topics such as leadership development, negotiation skills, and technological advancements, empowering women to excel in their careers.
Resources for Women in Supply Chain Management
As the call to empower women in the field of logistics has risen, more and more efforts have emerged to do exactly that. Whether by connecting women who share a professional background or creating mentorship opportunities to build skill and leadership capabilities, these initiatives have the power to change the playing field for women in supply chain management for the better.
However, it's not always easy for individuals to find the supportive communities they're looking for, especially for women working in a male-dominated field. For this reason, we've compiled an index of some of the best organizations, community networks, scholarship opportunities, and more to help speed up the search process. 
Organizations and Networks
The Women's Supply Management Community from the Institute for Supply Management (ISM)
ISM is another leading supply chain management organization whose Women's Supply Management Community is explicitly organized to connecting and empowering women in the field of logistics. This includes mentorship opportunities which individuals can apply for (and can also apply to be a mentor themselves).
AWESOME (Achieving Women's Excellence in Supply Chain Operations, Management, and Education)
This organization provides numerous resources specifically for women working in the field of supply chain operations and logistics, offering awards and scholarships to help boost women working in the field. They also host an annual symposium as well as other events year-round to connect women in supply chain management and logistics.
Association for Supply Chain Management (ASCM)
The ASCM is a leading organization for those in the field of supply chain management. Though they are not specifically designed around the cause of women's leadership development, their networking opportunities, certifications, and resources acknowledge the gender gap in the field and provide meaningful avenues for women workers to build their careers.
Council of Supply Chain Management Professionals (CSCMP)
Another organization that is not explicitly focused on women in the field, CSCMP nevertheless produces numerous resources related to the topic, including their recent article "Inspiring Female Supply Chain Leaders." Their website provides additional resources like this as well as events and a network of supply chain professionals.
Women in Logistics and Transport (WiLAT)
This organization is devoted to supporting women pursuing careers in logistics and transport. Their offerings include scholarships and educational opportunities as well as online and in-person networking events.
International Women's Forum (IWF)
This organization, devoted to supporting women in leadership roles across industries, includes resources specifically designed for women in logistics and supply chain management. These include scholarships and fellowships to empower women leaders in the logistics field.
This event, sponsored by Food Logistics and Supply & Demand Chain Executive, is an annual conference aimed at providing networking opportunities and educational experiences for women working in the field of supply chain management. They also confer annual awards to women in leadership roles in the industry. This year's conference takes place November 14, 2023. 
Gartner Supply Chain Symposium/Xpo
This conference, though not specifically focused on the gender gap in logistics, is a leading event for supply chain professionals, offering insights, networking, and learning opportunities.
Where Else Can I Look for Professional Support in the Field of Supply Chain Management?
The above organizations are large, national-level enterprises that connect a broad base of professionals living all over the country. However, if you are seeking professional guidance and support, you may be hoping to make connections that are closer to home. This is fair, and can even be smart: you may be better able to find direct support and learn of practical opportunities when you're looking within your own locality.
It can be challenging to find professional support within (or near) your existing community, but with dedication, you may find opportunities that are worth the effort.
So how do you do it? It starts with the question of where to look. This can be the hardest step for those who have an abstract sense of needing support but not a specific direction or set of needs. Good news: there are many tools you can use to get connected to inspiring female leaders in the world of supply chain management, and many of them may already be familiar to you.
To start, take a look at online forums, such as LinkedIn, Reddit, and Facebook. By refining your search to include only people in your area, it's quite possible you'll tap directly into an existing network of like-minded professionals who have similar needs to your own. If you have trouble finding anything out there already, don't be afraid to get the discussion started yourself – you're certainly not alone in your needs and chances are your request will be met by individuals who are looking for the same. It is of course worth noting that these forums are generally open to the public, and therefore can attract participants who might be less than helpful in fulfilling your goals; keep this in mind as you post and be judicious in who you choose to correspond with.
Some people specifically wish to have in-person contacts they can look to for support and advice. This can be an excellent idea, as you are more likely to build a lasting relationship with someone you have met in real life. If you are craving in-person opportunities, websites like EventBrite and MeetUp frequently feature events designed to connect professionals within their particular industries. If you're bold, be the change you wish to see: initiate your own meetup for women professionals in the world of logistics management. You'll be the spark behind an occasion that will provide support to many who are in situations just like yours.
Strategies for Recruiting and Retaining Women in Supply Chain Management
If you are working as a recruiter or HR representative or are otherwise involved in hiring processes for a supply chain service organization, you have the power to transform the landscape of gender equity in logistics. But it can be hard to know where to start, even if your intentions are good.
The following strategies are tangible, actionable plans that can ensure your organization is meaningfully investing in better opportunities for women in logistics. 
Implement Blind Recruitment
Blind recruitment processes are ones in which candidates are assessed based on their skills and qualifications without disclosing their gender or other background factors. These have been shown to mitigate unconscious biases, leveling out the playing field. This approach ensures that women are evaluated fairly based on their abilities and experiences.
Promote Flexible Work Arrangements
Blind recruitment processes are ones in which candidates are assessed based on their skills and qualifications without disclosing their gender or other background factors. These have been shown to mitigate unconscious biases, leveling out the playing field. This approach ensures that women are evaluated fairly based on their abilities and experiences.
Invest in Training and Development
Offering flexible work arrangements, such as remote work options and flexible hours, can help women professionals manage their work-life balance effectively. Flexible policies make it easier for women to pursue leadership roles without compromising their personal responsibilities.
Establish Employee Resource Groups (ERGs)
Creating Employee Resource Groups dedicated to gender diversity can provide a platform for women professionals to connect, share experiences, and support one another. ERGs can also collaborate with management to advocate for policies that promote gender equality within the organization.
The opportunities for women in supply chain management are vast and growing, but challenges persist. By addressing these challenges through supportive workplace policies, mentorship programs, and diversity initiatives, the industry can harness the full potential of its workforce.
Employers and recruiters play a pivotal role in creating an equitable environment where women can thrive, bringing their unique perspectives and skills to the forefront of the supply chain management field. As the industry continues to evolve, embracing gender diversity is not just a matter of equality; it is a strategic imperative that fosters innovation, creativity, and sustainable growth.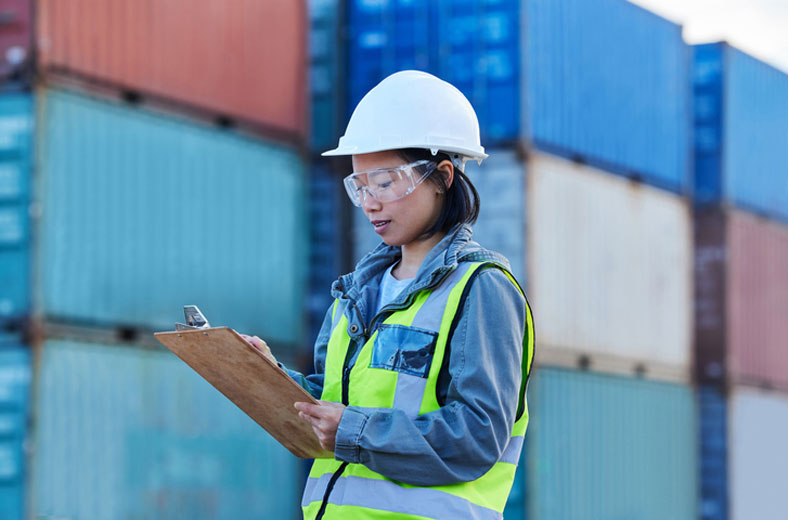 Supply Chain Management Salaries
As mentioned above, supply chain managers and logisticians can launch impactful, high-earning careers, taking advantage of this ever-growing industry. But what do supply chain managers make?
According to the Bureau of Labor Statistics, logisticians earn a mean annual salary of $81,220. These numbers go up considerably for those in leadership positions: logisticians in the top 75th percentile earn a mean annual salary of $99,400, and those in the 90th percentile earn $124,050. These impressive numbers are part of what has been drawing so many to pursue careers in supply chain management.
Equally promising numbers for aspiring supply chain managers can be found in the anticipated job growth rate for logisticians. The BLS projects an anticipated 18% growth rate of jobs for logisticians by 2032, greatly exceeding national averages across professions. Indeed, supply chain management is having a moment – one you can capitalize on to make a lasting investment in your professional life.
Pursuing a Career in Supply Chain Management
If you are eager to take the next steps toward a career in supply chain management, your first step will be obtaining a supply chain management degree. These can fast-track your career in logistics, building up your expertise so that you can one day take on a leadership role of your own. To learn more about supply chain degree options and certifications, visit our guide here.
It can be helpful at the outset of our academic journey to form a clear sense of your specific career goals, as they will help guide you through each step of your professional journey. To learn more about career opportunities in supply chain management and logistics, visit our guide here.