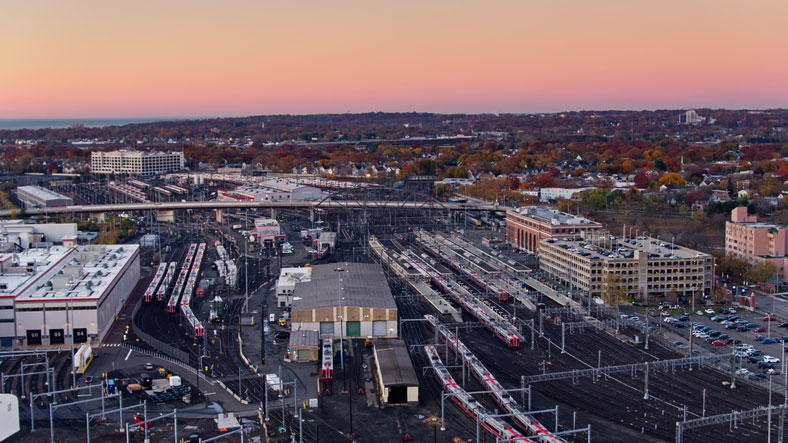 Home to deep water ports in New London, New Haven, and Bridgeport, plus 577 miles of freight rail lines and four interstate highways, from the start, Connecticut was better poised than most states to integrate itself into local and global supply chains. And with the fact that Bradley International Airport is equidistant between major air cargo hubs in Boston and NYC, the state cements it's standing as a global supply chain leader.
It should come as no surprise that some of the biggest economic players in the nation are headquartered in Connecticut, including leading defense contractors, logistics companies, and healthcare corporations deeply reliant on functioning supply chains. And industry execs are acutely aware of the fact that efficient supply chains make all the difference when landing multi-billion-dollar contracts.
For that reason, they place a premium on developing skilled logistics and supply chain management teams. Connecticut's infrastructure and geographic advantages are all for naught without talented logisticians and supply chain managers who know how to get the job done. That means corporate recruiters in Connecticut are on the lookout for professionals with strong credentials – a bachelor's in SCM for entry-level management roles, and an MBA or other master's in supply chain management for high-level leaders.
Stratford: Home to the Headquarters of Sikorsky Aircraft, and the Future of Aircraft Engineering
Stratford-headquartered Sikorsky Aircraft, bought by Lockheed Martin eight years ago, celebrated its 100-year anniversary in 2023. That's 100 years of innovations in aviation with one of the nation's largest and most important aerospace defense companies, specializing in helicopters but also other aircraft.
The third-largest private-sector employer in the state, Sikorsky is responsible for around 8,200 Connecticut jobs.
One of the company's most recent achievements at its Stratford production facility is an order for 200 King Stallion heavy-lift helicopters, the military's biggest and heaviest helicopter, destined in this case for the Marines. To land this 30-year, $31 billion contract Connecticut offered $220 million in incentives for the company to win out over Florida.
Complete with over 670 part numbers, the King Stallion contract has an enormous domino effect on the economy and supply chain. Third-party supplier Shelton-based Beta Shim does 85% of their business with Sikorsky to the tune of billions of dollars.
In 2022 another major contract with Sikorsky's Stratford facility was announced, this time an Army order for 120 Black Hawk helicopters worth $2.3 billion.
Sikorsky is landing multi-billion-dollar contracts left and right. These all involve sourcing parts and machinery from global supply chains. Lockheed's SCM professionals need high skills and cannot be afraid to assume roles requiring leadership and responsibility.
This is why the company requires at least a bachelor's degree in a relevant field for anyone who wants to apply for positions like Supply Chain Procurement Engineer. You'll also need to pass a background check and gain a security clearance to work on current military contracts.
The future of aircraft lies at the Sikorsky plant in Stratford, and your future in SCM starts with a qualifying degree.
What Does a Supply Chain Manager Do in Connecticut?
SCM jobs involve the application of common principles no matter what sector you work in.
A bachelor's degree in SCM introduces these principles, like:
A graduate degree in SCM goes in-depth into these principles, expanding into concepts related to:
Earning an MBA with an SCM concentration or a master's in SCM is also a great option if you're a career changer looking to laterally transfer into this field above the entry level.
Key Connecticut sectors that are particularly reliant on good supply chain professionals include:
Sometimes nothing beats real-world examples for demonstrating what you can expect from supply chain management jobs.
EthosEnergy is a global company that specializes in developing machine components used in aerospace, power generation, and industrial factories. At its East Windsor location, it tests and overhauls aircraft engines.
To qualify for the supply chain management position, you need at least an undergraduate degree in supply chain management, business administration, or engineering. Having a supply chain-related certification is considered a plus.
Duties involved with this position include:
From these examples you can see that as you progress in your SCM career you'll be able trace a direct line between what you studied as part of your SCM degree program and the skills you rely on every day in the workplace.
Supply Chain Management Schools – Universities in Connecticut Offering Degrees in SCM Online and On-Campus
We've analyzed every school that offers an SCM program in Connecticut and the nation. We've crunched metrics for tuition, on-campus offerings, and online offerings for bachelor's, master's, MBAs, and certificates.
It's up to you to zero in on the program that best fits your own unique career goals; to seize the opportunity to maximize your career's success.
Central Connecticut State University
School of Business
Accreditation: NECHE
Hybrid, online

School of Management
Accreditation: MSCHE
Online