It's easy to think you won the lottery if you live in Florida and work in supply chain management. Florida is perhaps the best-connected state in the nation when it comes to being integrated with global supply chains, and it also happens to have one the nation's strongest economies.
But it's no accident that Florida is both high up on the SCM food chain and home to economy-driving global companies. Private-sector leaders are glad to call Florida home precisely because Florida is so strategically situated to interface with global supply chains.
It can be fairly said that Florida is a supply chain and logistics leader by land, air, and sea:
But all these geographic and infrastructural advantages don't mean much without skilled SCM teams who know how to use it. That's why business and the public sector put such a premium on hiring SCM leaders who know their trade and hold the credentials to prove it. Whether you're starting your career with a bachelor's degree in supply chain management or looking to advance with a master's, MBA, or post-degree certificate, you'll find options both online and on-campus right here in Florida.
Florida's Cruise Industry Offers Some Unique Challenges for SCM Managers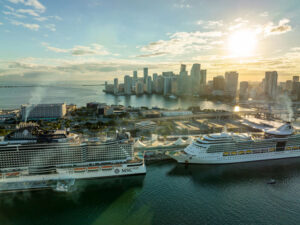 Florida is uniquely dominant in the cruise industry. It accounts for around 60% of all US cruise boardings. The state with the second-most cruise boardings is California, accounting for around just 10%. All the following major cruise lines are headquartered in Florida:
Carnival Cruise Line
Royal Caribbean International
Disney Cruise Line
Norwegian Cruise Line
MSC Cruises USA
PortMiami and Port Everglades account for the most cruise traffic in the state. Between these and Port Tampa Bay, Port Canaveral, and Port Jacksonville, on-shore spending by cruise passenger levels-out at around $1.22 billion per year. Altogether, Florida reaps around $9 billion annually from its cruise sector, which also provides jobs for around 22,000 Floridians.
As far as supply chains go, cruise ships have very unique characteristics. Contractors must meet stringent requirements to resupply what are essentially floating resorts during docking layovers that can last only hours.
SCM professionals who work for the major cruise companies must juggle short layover resupply schedules with a duty to create demand projections that accurately forecast resource needs based on an analysis of variables like consumption habits, weather, entertainment events, passenger profiles, and cruise patterns.
There's a fine line that SCM professionals walk between getting estimates done sooner to maximize time for supplier turnaround, or later to maximize the accuracy of their estimated needs.
For example, a Strategic Sourcing Hotel Manager with Carnival Cruise Line is responsible for managing key supplier contracts and negotiating multi-million-dollar supply chain deals.
This type of job involves an obvious element of know-how and responsibility, which is why Carnival requires applicants for this position to have at least a bachelor's degree in supply chain or another applicable discipline.
Florida is a global leader in the cruise industry. That means you're ideally poised to ride this wave if you're also in the Sunshine State, provided you meet competitive qualifications.
What Does a Supply Chain Manager Do in Florida?
Florida is a hub for global companies with household names, many of which are heavily dependent on well-oiled supply chains. You can start now to position yourself for tomorrow's SCM leadership positions by earning a degree in supply chain management.
Walt Disney World is the most visited resort of its kind on earth. Every year 55 million tourists experience the magic, while the complex provides jobs for 62,000 employees.
The Magic Kingdom, Epcot, Hollywood Studios, and Animal Kingdom all have supply chains you'd expect for the service industry tourism sector, in addition to machinery and other specialized components.
K-12 Public Schools are one of Florida's largest employers. Miami-Dade County relies on its 54,300 teachers, assistants, administrators, and additional staff to ensure over 330,000 students throughout Magic City get the best education possible. As the third-largest school district in America with a yearly budget of $8.25 billion, M-DCPS also has one of the largest school-type supply chains.
Hillsborough County Public Schools is the second-largest district in the state, employing over 25,000. Orange County Public Schools is close behind, employing nearly 20,000 with student enrollment levels topping 175,000.
Department of Defense installations dot the Florida landscape. Naval Air Station Jacksonville is home to seven active squadrons, five helicopter squadrons, and three reserve squadrons. Each year it contributes approximately $2 billion to Florida's economy and brings over 10,000 active-duty, 34,000 family members, and an additional 8,370 federal employees to the area.
Good supply chains are essential for military readiness, and this holds true at NAS Jacksonville, just as it does for other DoD installations in the state like Eglin AFB, Tyndall AFB, and Camp Blanding Joint Training Center.
SCM Cuts Across Florida's Major Economic Sectors
Having a good SCM team can make the difference between sinking or swimming. We've covered Florida's leading employers, and looking at the following overview of the state's major economic sectors also reveals the importance of a properly functioning supply chain.
Known for its great weather and comfortable beaches, healthcare is a particularly important sector in Florida, the state with the second-highest percentage of those over the age of 65. Pharmaceutical companies, hospitals, and clinics are highly reliant on the supply chain, as was recently demonstrated during the Covid-19 pandemic.
Some of the largest healthcare providers and facilities in the state include:
Florida's vibrant tourism industry and a general trend in America that favors the service sector places its businesses that specialize in this on top. Perishable foods and tourist services are about as supply-chain-dependent as they come.
The iconic Hard Rock brand headquartered in Broward County operates restaurants, casinos, cafes, and hotels across the world. Owned by the Seminole Tribe of Florida since 2007, HR International has venues in 75 countries that include 11 casinos, 25 hotels, and 181 cafes.
Orlando-headquartered Planet Hollywood has been described as the film and television equivalent of the Hard Rock Cafe. Initially backed by blockbuster heavyweights like Sylvester Stallone, Arnold Schwarzenegger, and Bruce Willis, today you can find PH resorts and hotels in prominent international locations.
What started as a single burger joint in Florida in 1954 has today become an international brand with more than 18,000 restaurants in 100 countries. Burger King is variously ranked as the second or third-largest hamburger chain in the nation, headquartered in Miami.
Vulnerable to supply chain hiccups just like its competitors, in 2022 inflation combined with supply chain issues forced BK to reduce the number of chicken nuggets it included in its meals.
Retail is heavily supply chain dependent by definition: retailers serve as middle broker between goods and consumers.
The grocery niche of retail offers some relative safety compared with other categories; after all everyone needs to eat. This attracts risk-averse players who are in it for the long haul, used to squeezing out efficiency from annual profit rates that turn those favoring higher-stake margins away. This type of environment rewards those who can maximize supply chain efficiencies.
Florida's own Publix Super Markets pulls it off in this competitive niche year after year. Not only is it viable against other major supermarket chains; Publix is a minority in championing the employee-owned model. What started as a single supermarket in 1930 Winter Haven has today grown to a major supermarket chain with 1,341 locations. 854 of those are in Florida. Publix's annual sales top $48 billion and it employs nearly a quarter-million people.
Office supply giant Office Depot, managed by the ODP Corporation headquartered in Boca Raton, leans heavy on products with computer chips manufactured in places like Hong Kong, Taiwan, the Netherlands, and mainland China.
With over 1,000 stores and 26,000 full-time employees, ODP is a Fortune 500 company with annual revenue approaching $11.5 billion. It's Florida's best answer to competitors like Best Buy, Costco, and Home Depot.
Supply Chain Management Schools – Universities in Florida Offering Degrees in SCM Online and On-Campus
SCM principles are the same no matter what sector you work in, with major players in Florida including retail, healthcare, the public sector, tourism, and the service industry.
An undergraduate degree in SCM introduces principles that are required reading for anyone involved in this field. These include:
Advanced topics and in-depth study of the intricacies of SCM are available through master's degrees in supply chain management, post-bachelor's certificates, and MBAs with an SCM concentration.
Graduate study is a good idea if you want to advance in your career and move into jobs with more responsibility. It's also a good fit if you're a career changer looking to stack graduate-level SCM training on top of an existing bachelor's.
Graduate-level topics in SCM include:
Compared with most states, Florida is home to tons of options when it comes to choosing the SCM degree program that's right for your unique career goals and aspirations. We've analyzed every program in the state, both online and on-campus.
Accreditation: MSCHE
Online

Embry-Riddle Aeronautical University
Worldwide and Online
Accreditation: SACSCOC
Online

Florida Agricultural and Mechanical University
School of Business and Industry
Accreditation: SACSCOC
Campus, online

MBA with a Supply Chain Management concentration
MS in Supply Chain Management
Florida Institute of Technology
Nathan M. Bisk College of Business
Accreditation: SACSCOC
Campus, online

MS in Supply Chain Management
Florida International University
College of Business
Accreditation: SACSCOC
Online

MS in Logistics and Supply Chain Management
School of Business and Free Enterprise
Accreditation: SACSCOC
Hybrid, online

MBA in Supply Chain Management
Millennia Atlantic University
Graduate School
Accreditation: ACCSC
Campus, online

MS in International Logistics Management
University of North Florida
Coggin College of Business
Accreditation: SACSCOC
Campus, online

MBA with a concentration in Logistics
MS in Logistics and Supply Chain Management
University of South Florida
Muma College of Business
Accreditation: SACSCOC
Campus

MS in Supply Chain Management