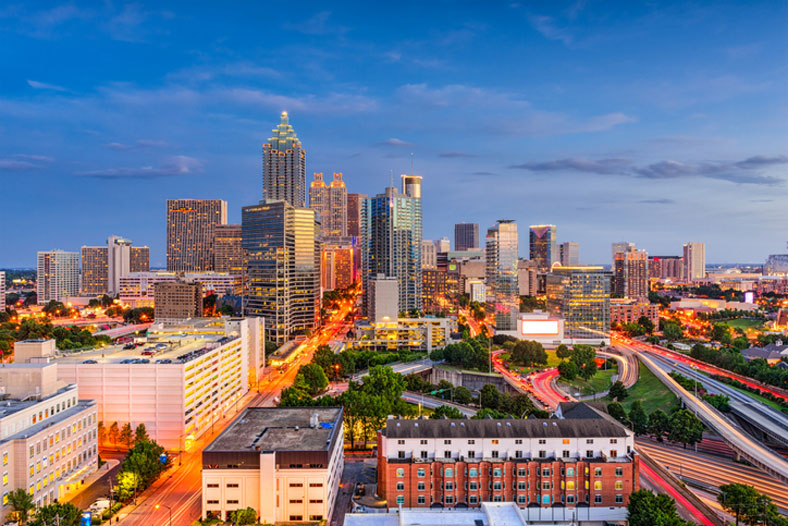 Georgia's logistics-friendly infrastructure is a big reason why so many major corporations maintain operations and headquarters here.
It has the busiest airport in the world, for one. It also has two major deep-water ports in Savannah and Brunswick that together support nearly half-a-million jobs and contribute $122 billion in revenue to the state. The Port of Savannah alone handles around 9% of America's containerized cargo volume and 11% of its containerized exports.
In fact, between 2022 and 2025 the Port of Savannah is slated to expand its container capacity size by 60%, bringing its total annual capacity to 9.5 million cargo containers (TEUs). Today its Garden City Terminal is the fourth-largest container terminal in the nation.
Companies with major roles in logistics call Georgia home. UPS employs over 500,000 people, operates in over 220 countries and territories, and charters nearly 2,000 flights daily – and its global headquarters is right here in Georgia
In addition to Georgia's network of interstate highways, it also hosts thousands of miles of Class I cargo rail lines with major intermodal terminals operated by BNSF in Atlanta, CSX in Fairburn and Tremont Avenue, and NS in Austell, Inman, and Savannah.
But although it might seem that Georgia's economic machine has all the scaffolding it needs to excel, the gears won't turn without a team of skilled SCM professionals who know how to keep them oiled.
That's where you come in. A degree in SCM will give you the knowledge you need to take supply chain duties by the horns, and at the same time signal to HR scouts that you're a serious candidate who knows your trade.
ATL – How the World's Busiest Airport Ties International and Domestic Supply Chains Together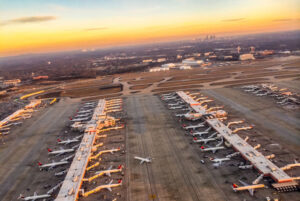 In a world where supply chains are increasingly dependent on rapid air cargo deliveries for JIT ("just-in-time") production, it's advantageous to be near an airport. In the case of Georgia and especially Atlanta, that supply chain advantage is magnified many fold considering the city hosts the world's busiest air hub: the Hartsfield-Jackson Atlanta International Airport (ATL).
The state's largest employer with over 63,000 jobs, ATL annually brings in nearly $35 billion to metro Atlanta.
The home base of legacy carrier Delta, 70 international direct flight routes connect the airport with major commercial hubs in Europe, Asia, Africa, and South America.
18 all-cargo airlines operate out of Atlanta including FedEx, China Airlines Cargo, UPS Air Cargo, Lufthansa Cargo, and Korean Air Cargo.
The airport currently has 28 parking spaces for cargo aircraft and processes around 640,000 metric tons of freight annually. It also maintains nearly 30 acres of air cargo warehouse space. But that's just the beginning.
ATL has big aspirations to grow its status as a cargo heavyweight. Over the next 20 years it plans to expand its cargo operations and concourses, including being the first airport in North America to implement a Cargo Community System that links airlines with ground handlers, freight forwarders, and trucking logistics.
If you work in SCM and you're savvy about cargo operations at ATL then you're already a step ahead. Leading companies in Georgia like GPC (Genuine Parts Company) depend on the type of fast turnaround that only air cargo can offer. Then there are Georgia-headquartered companies like UPS whose bread and butter is DDSN (demand-driven supply network) supply chains.
ATL is taking steps to expand its cargo capabilities and meet the supply chain demands of tomorrow. You can also take steps now to meet tomorrow's competitive job market demands by earning a degree in supply chain management.
What Does a Supply Chain Manager Do in Georgia?
Founded in 1979 as a pair of local hardware stores in Atlanta, today Home Depot is the world's largest home improvement retailer with 475,000 employees spread across 2,300 stores in North America.
For Home Depot, when people think of supply chains what typically comes to mind are physical goods and products. But this retailer's workforce is also a commodity that's subject to the same rules of supply chains. In fact, Home Depot has a position for a Logistics Analyst in its Supply Chain Labor Management department.
As a Supply Chain Labor Management Logistics Analyst, you're responsible for training management staff at Home Depot distribution centers throughout Georgia; training the trainers, in other words. Duties involved with this position include:
Home Depot requires applicants for this position to have at least a bachelor's degree in a related field of study.
Delta Airlines hires Supply Chain Commodity Managers to source and manage contracts for the airline's on-board services department. Duties involved with this position include:
Delta states that as an applicant, you'll enjoy a competitive edge if you have a bachelor's degree in supply chain management. It also emphasizes that candidates with an advanced degree are strongly preferred.
The SCM principles you learn in an academic degree program will stay with you and be relevant whether you work at Home Depot, Delta, or in any of Georgia's other major sectors that are particularly supply-chain-dependent, including:
Supply Chain Management Schools – Universities in Georgia Offering Degrees in SCM Online and On-Campus
You can get a good sense of what supply chain managers do by looking at the topics covered in an undergraduate SCM degree program:
The principles of SCM apply universally no matter what sector you work in. That's why starting a career in SCM that's already underlain with a strong academic foundation can be so helpful.
At the graduate level, a master's in SCM or an MBA with an SCM concentration provide a benchmark of knowledge you'll refer to throughout your career. This includes study of topics like:
If you're already a professional and looking to change careers into SCM then adding a graduate degree on top of an existing bachelor's is also a good strategic option.
Once you graduate and start looking for SCM positions you'll find just how much having a degree in this field opens doors.
College of Business
Accreditation: SACSCOC
Hybrid, online

Georgia College and State University
J. Whitney Bunting College of Business and Technology
Accreditation: SACSCOC
Online

Georgia Southern University
Parker College of Business
Accreditation: SACSCOC
Online