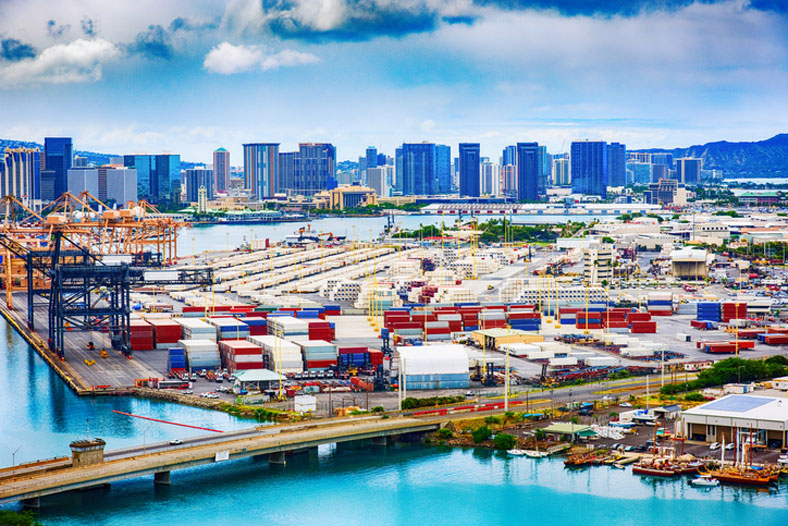 Long before the British Navy sailed the Seven Seas, ancient Hawaiians were traversing the Pacific in seafaring boats to trade and prosper, relying on their knowledge of currents and winds and navigating by the stars.
That proud legacy is alive and well today as shipping trade thrives across the islands. The state's Harbor Division operates 10 commercial ports that see millions of tons of cargo transit through each year.
What isn't shipped in by boat is flown in by plane. The Honolulu International Airport, operating flights to every major city on the Pacific Rim, is located just three miles away from one of America's largest shipping container ports at the Honolulu Harbor.
From a logistics and supply chain perspective, Hawaii is in a uniquely advantageous position, situated between the world's three largest economies. It's one of the strongest states when it comes to having a robust tourist economy and service industry, and its climate makes it an agricultural powerhouse. Its geostrategic location also means plenty of federal investments to keep its defensive infrastructure primed.
All these natural advantages can go a long way towards underwriting prosperity, but they can also be squandered if not managed correctly.
This is where the skilled guidance of a supply chain management (SCM) team comes in. Virtually every company in Hawaii is dependent on a sea-based supply chain. That means they're also dependent on supply chain managers with the kind of expertise you can only get with a degree in SCM.
Seaports – Hawaii's Lifeblood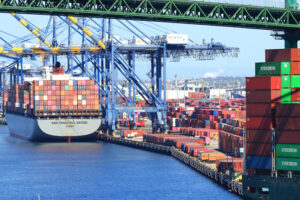 It's natural that a chain of islands would get a lot of their consumer goods via trans-oceanic shipping. Here in Hawaii, 85% of all goods are imported, and the vast majority of those –between 91% and 98.6%– are shipped in by boat. 15% of Hawaii's imports are consumer goods, while the rest are raw materials.
The state's 10 commercial ports are distributed throughout the islands, with three on Oahu, two on Kauai, two on the Big Island, and one each on Maui, Molokai, and Lanai.
Honolulu Harbor processes 12 million tons of cargo each year, making it by far the largest commercial seaport in the state and the 12th-busiest container port in the nation. It's a natural 40-foot-deep harbor with 200 acres of container yard, 30 major berth facilities, and more than five miles of mooring space.
The Kalaeloa Barbers Point Harbor is also on Oahu and ranks as the state's second-busiest port. Among its amenities are specialized cargo handlers like a pneumatic cement pump system and a coal bulk unloader.
Each year Hawaii imports around $2 billion-worth of goods, and outside of the mainland its largest import partner countries are Japan, South Korea, Russia, and China. By value its largest imports are:
Oil and mineral fuels – $985 million
Motor vehicles and parts – $184 million
Furniture – $72 million
Industrial machinery – $65 million
Seafood – $52 million
But Hawaii's seaports aren't just for imports. Each year the state exports around $320 million-worth of goods, mostly to Australia, Japan, Bangladesh, Hong Kong, and South Korea. Its main exports are aircraft, iron and steel, seafood, beverages, and aluminum.
Hawaii's economy, perhaps more than any other state's, is critically dependent on efficient supply chains. That means being well-versed in SCM is always going to be an advantage no matter what line of work you're in.
The subjects you'll learn about in SCM undergraduate and graduate degree programs apply across the board and signal to LinkedIn scouts that you're ready to be competitive in Hawaii's unique marketplace.
What Does a Supply Chain Manager Do in Hawaii?
The principles you learn in an SCM program apply universally, no matter which of Hawaii's many sectors you work in:
Browsing examples of SCM jobs is a good way to get a real-world feel for what's involved in this career path.
It goes without saying that tourism is Hawaii's cash cow, for better and for worse. To be a Catering and Supply Chain Operations Specialist with Hawaiian Airlines means duties like:
To work in this position with Hawaiian Airlines, at minimum you must have a college degree or an equivalent number of years of experience, and two years of experience working with supply chains or related topics.
The State of Hawaii hires Procurement and Supply Specialists to ensure that all its departments on all islands are adequately provisioned to fulfill their mandates. This includes the state departments of Agriculture, Transportation, Legislature, Health, Human Services, and Education, to name just a few.
Naturally each department has its own unique supply chain demands which you'll become familiar with as a Procurement and Supply Specialist. Duties associated with this position include:
To work as a mid-level Procurement and Supply Specialist with the State of Hawaii you need at minimum a four-year bachelor's degree, however it may be possible to substitute some experience in supply chain management for years of education.
Supply Chain Management Schools – Universities in Hawaii Offering Degrees in SCM Online and On-Campus
You can get a good sense of what SCM professionals do by looking at the topics introduced in an undergraduate degree program in supply chain management:
In SCM programs at the graduate level, you'll encounter detailed coverage of advanced topics like:
In addition to aligning your career for upward mobility, a graduate degree in SCM is also a great tool if you're a career changer looking to laterally transfer into this field.
Here we show all schools in Hawaii offering degrees in SCM at the undergraduate and graduate levels, both online and on-campus.
There are no listings at this time. Check back, as we update listings often.