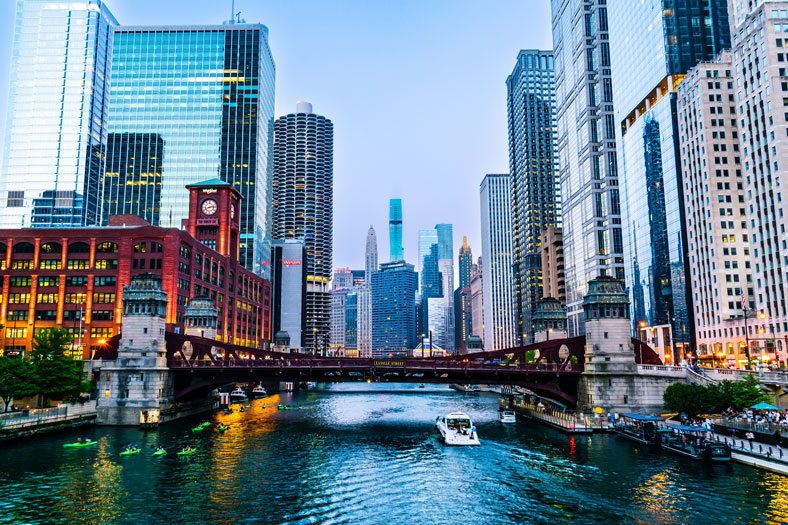 Illinois is at the forefront of the electric vehicle revolution, and its supply chains are primed and ready to handle the next wave in electric vehicle parts, and components manufacturing. Illinois, of course, has always been a manufacturing powerhouse and a leader in the technology and advanced manufacturing industries, so a shift to EV manufacturing here just makes good sense. And for aspiring and practicing supply chain managers, this means more opportunities in the Prairie State than ever before.
Today, Illinois leads the Midwest in clean energy jobs. Its automotive workforce alone totals about one million. According to the Illinois Manufacturers Association, transportation equipment manufacturing grew by nearly 49 percent between 2009 and 2019.
The state is also home to a robust transportation, distribution, and logistics infrastructure thanks to its ideal location in the central United States. Plus, Illinois is ranked second nationally for its grid modernization, which ensures a stable and resilient grid for EV manufacturing.
Just some of the leading EV manufacturing companies in Illinois include Rivian in Normal, one of the largest EV producers in the world with a workforce of 5,200… Lion Electric Company, whose 900,000-square-foot manufacturing plant can produce up to 20,000 zero-emission buses and trucks annually… and EVBox, which manufacturers EV charging stations at its 60,000-square-foot Libertyville production facility.
Whether your keen attention to detail and natural leadership abilities are focused on the swiftly growing electric vehicle and parts manufacturing industry or on another one of the state's key industries, you're sure to find plenty of opportunities to make your mark as a supply chain leader in Illinois. But first you'll need to show your commitment to, and knowledge of, the field of supply chain management. And that requires a degree.
From bachelor's degrees to master's to post-baccalaureate and post-master's certificate programs, there's an outstanding selection of SCM programs to choose from, both online and right here in Illinois. And all of them are expertly designed to take your career in the right direction.
O'Hare International Airport: The Nation's Most Well-Connected Megahub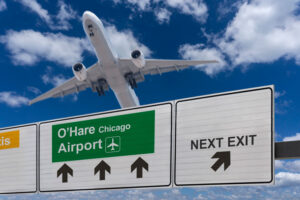 In 2022, O'Hare International Airport became the nation's best-connected airport (and the fifth most connected in the world). This wasn't the first time this honor was bestowed upon O'Hare, but it was the first time in six years.
The Official Aviation Guide (OAG), largely considered the leading authority on air service information, gave Chicago O'Hare International Airport the number-one ranking after examining the airport's route network, the number of connections that are possible within a specific time frame, and the total possible connections for domestic and international passengers. With O'Hare boasting no less than 66 international destinations (as of August 2022) and a position as the third largest airport in terms of total capacity, OAG gave it the top spot among all other airports in the nation.
And things are only getting better at O'Hare, thanks to the massive O'Hare Modernization Project, which to-date has reduced avoidable delays at the airport by 65 percent. Next in line will be a massive project called "O'Hare 21," largely considered one of the world's most ambitious terminal redevelopment programs.
Chicago passengers also enjoy superb connectivity through Midway International Airport, which was ranked 19th in domestic connectivity by OAG in 2022.
Other major U.S. airports that took second through fifth place for international connectivity in 2022 included Dallas/Fort Worth, Atlanta Hartsfield-Jackson, Seattle-Tacoma, and Denver International.
What Does a Supply Chain Manager Do in Illinois?
Sure, Illinois' manufacturing companies are the source of many jobs in supply chain management. But opportunities in SCM don't end there. Whether you've just begun a career in the field, or you're ready to pursue an executive-level role, there's outstanding opportunities awaiting you in every segment of the supply chain and with roles in manufacturing, distribution, warehousing, transportation, and more.
And it's little wonder why. Goods and services move like clockwork here, thanks to an infrastructure that places it among the nation's most impressive. Illinois is home to no less than seven Class 1 freight railroads (making it the largest rail hub in the country) … the massive O'Hare International Airport (ranked the most connected airport in the world) … the third largest interstate highway system in the country… and more than 1,000 miles of navigable waters, including two major inland ports and 14 waterway ports.
Just some of the key industries in Illinois where you're bound to find ample professional opportunities in roles like demand planner, project manager, purchasing agent, logistician, warehouse supervisor, and much, much more include:
Industry has always had a place in Illinois. Today, the manufacturing sector is largely driven by advanced technology. As of 2022, there were more than 8,200 advanced manufacturing companies in Illinois that employed some 265,000 people – that's about 14 percent higher than the national average. In fact, Illinois ranks among the top states in the nation for its number of advanced manufacturing jobs. This sector was responsible for about $46 billion in economic output during this time. Big names in advanced manufacturing in Illinois include:
ConAgra, U.S. Foods, McDonalds, Kraft Heinz— Some of the biggest names in food call Illinois home. This key sector, which encompasses food manufacturers, food producers, and agtech companies, is built off the more than 72,000 farms located throughout the state. Not surprisingly, Illinois ranks among the top in the nation for its export of agricultural commodities. Companies here export about $11.2 billion worth of goods to other countries annually.
From pharmaceuticals to medical equipment to biotechnology to chemicals, the life sciences sector in Illinois is robust and diverse. In fact, this major sector encompasses about 14,000 companies that employ about 580,000 people, making Illinois among the top employers in life sciences, both in the Midwest and in the nation.
Chicago also ranks among the top metro areas in the nation, both for the number of life sciences companies (ranks third) and for the number of life sciences jobs (ranks fifth). Illinois' life sciences sector contributes about $73 billion to the state's GDP – that's higher than any other state in the Midwest.
Some of the big names in Illinois' life sciences sector include:
Transportation, Distribution, and Logistics
When you're home to global leaders like Amazon, UPS, and United Airlines, the smooth flow of goods in, out, and throughout the state is a given. More than 20,000 transportation, distribution, and logistics (TDL) companies operate within the state, employing about 331,000 people. As a result, Illinois ranks seventh in the nation for its job concentration in this sector. In 2020 alone, transportation and warehousing businesses added 40,000 jobs in Illinois.
Chicago alone is a powerhouse for TDL. The greater Chicagoland region boasts the second largest transportation and logistics workforce cluster in the nation. Chicago also has the most transportation and logistics firms in the U.S., which includes 24 out of the 25 third party logistics providers. This sector contributes about $248 billion annually to the state's GDP.
Supply Chain Management Schools – Universities in Illinois Offering Degrees in SCM Online and On-Campus
Illinois has all the makings for a successful career in supply chain management: a diverse economy… the fifth highest GDP in the nation… a world-class infrastructure… a highly skilled workforce… and no less than 34 Fortune 500 companies. But if you want to separate yourself from the pack and show your commitment to the field, you must add a degree in supply chain management to your resume.
For newcomers to supply chain management, there's no better preparation than a bachelor's in supply chain management. These programs provide both a general business overview and an examination of supply chain management. Bachelor's degrees in supply chain management prepare students to assume entry-level management roles with manufacturers, suppliers, distributors, and more by teaching them to help organizations make smarter, more efficient decisions. Some of the topics studied in these programs include supply chain analytics, business analytics, operations management, project management, and quality assurance.
Master's degrees and post-baccalaureate and post-master's certificate programs in supply chain management are ideally designed for career changers and for those looking to make a big move in their supply chain management career. Master's degrees, which are most often designed as MBAs and Master of Science (MS) programs, offer a deeper exploration of the field, often as it relates to areas like finance, human resources, and international business. Just some of the topics studied in these programs include lean management and Six Sigma, global risk management, global procurement, and data analytics and technology.
Regardless of where you're at in your career, a degree in supply chain management will position you as a serious contender for a variety of roles with companies at every link of the supply chain. We've assembled a variety of programs, both online and on-campus, that are designed to meet your needs wherever you're at in your career.
Kellstadt Graduate School of Business
Accreditation: HLC
Campus

MS in Supply Chain Management
School of Business
Accreditation: HLC
Campus, hybrid, online

MBA with a Supply Chain Management specialization
MS in Supply Chain Management
Loyola University Chicago
Quinlan School of Business
Accreditation: HLC
Hybrid
MS in Supply Chain Management
University of St. Francis
College of Business and Health Administration
Accreditation: HLC
Campus, online

MBA in Supply Chain Management
MS in Management-Supply Chain Management