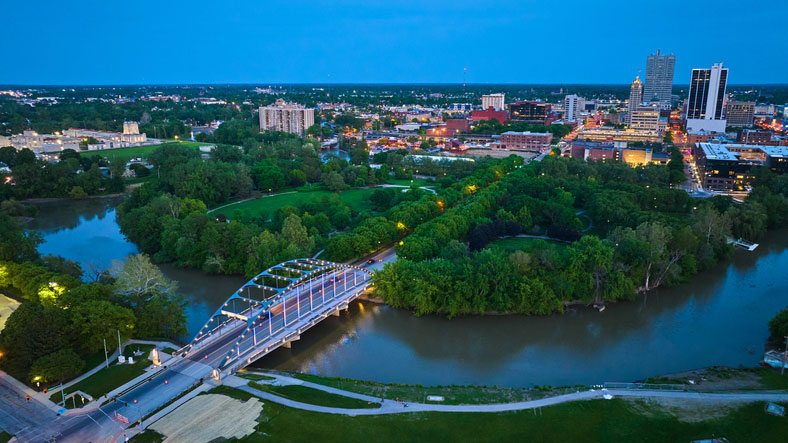 Logistics has long been the secret to Indiana's success. In the Hoosier State, freight moves smoothly and efficiently, making it a hot spot for manufacturers, distributors, warehousers, and transportation companies. Not surprising, it's also where professionals like demand planners, inventory analysts, warehouse supervisors, and logisticians are greasing the wheels of the supply chains to ensure it stays that way.
Indiana enjoys a prime, central position in the American heartland, putting 80 percent of the nation's population just a day's drive away. And its infrastructure is dependable. No less than 14 interstates and 4,000 miles of railways crisscross the state. Major water ports and dozens of airports, including the Indianapolis International Airport, round out the state's transportation system, the lifeblood of its economy.
As a result, Indiana is a powerhouse in logistics:
Each year, 724 million tons of freight valued at $650 billion moves through the state. By 2040, it is projected that the flow of freight here will increase by a whopping 60 percent. The Indiana Department of Transportation (INDOT) oversees the state's transportation infrastructure and partners with private business and industry to deliver an integrated freight transportation and logistics system capable of efficiently moving goods, materials, and services.
Indiana's solid transportation system and favorable business climate have helped build a massive transportation, distribution, and logistics sector. In the past few years alone, Indiana has added more than 12 million square feet of new warehousing, building one of the nation's largest warehousing workforces during that time.
Big players like Indianapolis' Integrated Distribution Services, a third-party logistics provider, are always on the move, setting new benchmarks in efficiency and cost-effectiveness. Integrated Distribution Services, which has provided the state with transportation and warehousing services for more than 50 years, is a modern logistics company whose use of the newest technologies have made it the gold-standard in the industry.
Indiana's role as a centralized hub for logistics has created unprecedented opportunities for logistics leaders at every level and in every segment of the supply chain. Whether you're looking to enter the field or advance within in it, you'll need a supply chain management degree to get you where you want to be. From bachelor's degrees for those just getting their feet wet to master's degrees, MBAs, and graduate certificates for those looking to advance, today's supply chain management degrees align with the skills of today's most successful SCM leaders.
FedEx Delivers in Indianapolis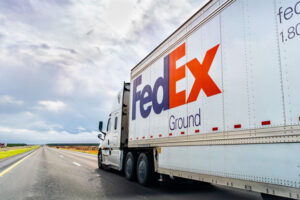 Indianapolis International Airport's 2.4-milion-square-foot FedEx Express facility is the company's second largest hub in the world and one of the reasons why Indiana remains a leader in transportation and logistics.
This FedEx national hub opened in 1988 with just 368 employees. But in 1998, the facility underwent a $260 million, five-phase expansion that doubled its sorting capabilities and nearly tripled its size. This expansion resulted in another 1,200 employees, making it the nation's second largest facility.
But growth of the facility wasn't done yet, and in May 2006, a new, 400,000-square-foot expansion project was announced. This project increased the facility by more than 600,000 square feet and included a new secondary sorting facility, two maintenance buildings, an aircraft maintenance building, and a ground support equipment building.
In 2018, FedEx announced it was expanding its Indianapolis hub. This $1.5 billion project is expected to take about seven years to complete. Phase I of the project, which was completed by 2020, included 16 new aircraft gates that increased package processing capacity by more than 30 percent and the installation of new package-handling equipment that increased the facility's handling capacity from 99,000 packages per hour to 111,000 per hour.
Today, the facility is a behemoth, accommodating about 850 planes per week. The 700 full-time and 3,000 part-time workers sort more than two million packages each day. Its location at the Indianapolis International Airport has allowed it to remain among the top cargo airports in the nation.
What Does a Supply Chain Manager Do in Indiana?
Indiana's highly skilled workforce and its outstanding infrastructure lend themselves to the state's formidable advanced manufacturing sector, which accounts for about 20 percent of the employment in the state – that's well above the national average. As of 2022, manufacturing in the Hoosier State accounted for some 534,000 jobs and contributed about $104 billion to the GRP, making Indiana the most manufacturing intensive state in the nation.
For supply chain managers and leaders, a strong advanced manufacturing sector translates into exceptional professional opportunities. Production managers, plant managers, procurement specialists, supply chain planners, operations specialists, supply chain leaders… they're but a small sampling of the countless roles in supply chain management found in manufacturing companies. In this setting, supply chain managers work with suppliers, distributors, and transportation companies to ensure everything from the procurement of raw materials to the efficiency of the manufacturing process to the delivery of the final product to retailers. It's a complex system that calls for professionals at every level of the supply chain, from entry-level managers to C-suite executives.
Two of the biggest players in this sector include GM Global Manufacturing, whose Fort Wayne assembly facility produces more than 1,000 trucks per day, and Subaru of Indiana Automotive, whose massive Lafayette campus (and the only one in the United States) employs about 6,000 and produces about 410,000 vehicles each year.
But they're not the only manufacturing companies in the state making big waves. Just some of the exciting manufacturing news to come out Indiana recently includes:
Supply Chain Management Schools – Universities in Indiana Offering Degrees in SCM Online and On-Campus
Indiana provides the opportunities in supply chain management, now it's up to you to put your skills, natural leadership abilities, and education to good use. Whether you're at the sourcing stage of the supply chain, or you're tasked with ensuring the safe and efficient transport of finished products to retailers and consumers, you're part of an incredibly vital field that thrives right alongside the state's thriving economy. But before you can begin making your mark in this exciting field, you'll need a solid foundation that only a degree in supply chain management can provide.
Bachelor's degrees in supply chain management lay the foundation for a career in supply chain management by providing students with a comprehensive course of study in both business and the business of supply chain management. Just some of the topics studied in these programs include demand management, warehouse management, acquisitions management, and transportation.
Master's degrees and post-baccalaureate and post-master's certificate programs are ideal pursuits for career changers and practicing supply chain managers interested in climbing the career ladder. Master's degrees like MBAs and Master of Science (MS) programs, which often allow students to focus their graduate degrees on related areas of study like finance, accounting, international business, and nonprofit administration, are designed to provide students with a deeper exploration of the field as to prepare them to lead complex, global supply chains. These programs are often taught by experts in the field and offer exciting, hand-on learning experiences with leading companies.
You'll find a wealth of opportunities, both in Indiana and across the country, to expand your skillset and earn the degree that'll get your foot in the door. A growing number of colleges and universities now offer both undergraduate and graduate programs in supply chain management through partially or fully online formats for unmatched convenience and flexibility.
Mitchell E. Daniels School of Business
Accreditation: HLC
Campus, online

MBA with a Global Supply Chain Management specialization
MS in Global Supply Chain Management
University of Saint Francis
MBA with a concentration in Supply Chain Management