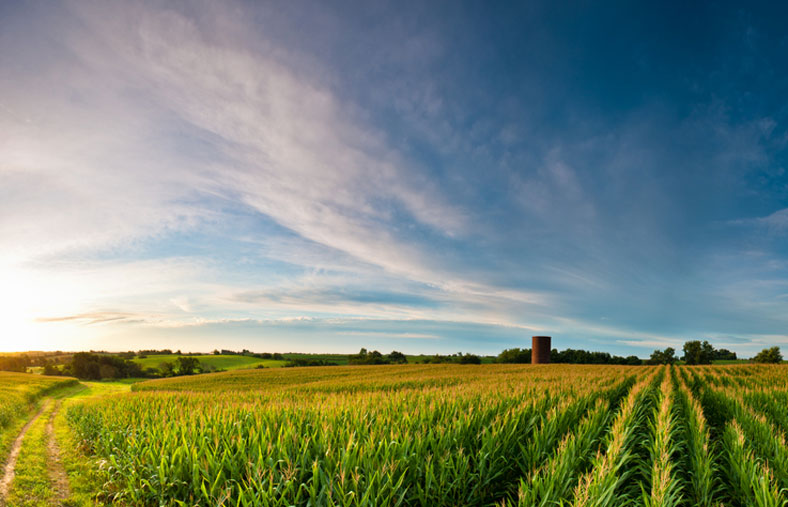 If near-endless stretches of corn fields come to mind when you think of Iowa, you certainly wouldn't be wrong. After all, agriculture and food production remain a major economic driver in the Hawkeye State, accounting for about $88.3 billion in economic output and some 315,000 jobs. The supply chain for the agriculture sector here is massive and complex, comprising farmers, transporters, warehouses, food production companies, and more. Supply chain management professionals have long been valued by Iowa's agricultural sector for their role in creating and maintaining coordinated supply chains between producers, traders, processors, and buyers.
But agriculture is not the only thing this beautiful Midwestern state has going for it. Advanced manufacturing also plays a major role in the health of the state's economy. It represents about 17 percent of Iowa's GDP, which ranks it seventh in the U.S. This major sector encompasses about 6,000 companies that employ 223,000 people – or about 14 percent of the state's total workforce. Just some of the industries within Iowa's advanced manufacturing sector include aerospace and defense products, aluminum, electronic devices, industrial chemicals, and medical devices.
From Fairfield's Agri-Industrial Plastics Company, which includes a 340,000-square-foot facility that employs about 200 Iowans, to the 3M Company in Ames, which just recently announced a $13.6 million expansion project that will add new equipment to increase the output of products used in the automotive industry, companies in advanced manufacturing are becoming a bigger part of the state's economy. Distributors, wholesalers, transportation companies, and retailers all benefit from a strong advanced manufacturing sector in Iowa.
Whether a career in supply chain management in Iowa finds you working in the agricultural sector, advanced manufacturing, or in one of the many other key industries throughout the state, you'll be part of a swiftly growing field that demands talent at all levels and in all segments of the supply chain. For anybody getting their start, that talent is developed through a bachelor's degree in supply chain management, while advancing and mid-career professionals look to master's and MBAs as well as post-baccalaureate and post-master's certificate programs to hone their talent and experience further. All those options can be found either online or on-campus right here in Iowa.
Investing in Iowa's Infrastructure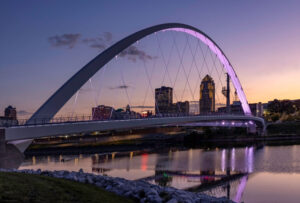 Iowa's infrastructure takes a beating, with some $300 billion worth of goods traveling over its roads and bridges alone every year. But not to worry… the Iowa Department of Transportation and the state's leaders are hot on the trail of roads and bridges that have seen their better day and are laser-focused on making much-needed improvements and upgrades to the state's aging infrastructure. In fact, more than $1.47 billion was earmarked for road and bridge improvements between July 1, 2022 and June 30, 2023 alone – a record amount for Iowa.
During this time, the state put 839 projects into motion, including those focused on interstates, secondary roads, and city roads and bridges. In Benton County, four-lane construction began on U.S. 30, while contractors put the final touches on the new interchange at U.S. 218 and Iowa 27. During this time, the final phase of the interstate reconstruction project in Council Bluffs came to a close, while work began on the expansion of I-35 (from Ankeny to Iowa Highway 210).
Of the $1.47 billion, about $700 million came from federal funding. According to a White House report, Iowa is set to receive about $3.9 billion in federal funding (from the 2021 Infrastructure Investment and Jobs Act) for bridges and highways over the next five years.
What Does a Supply Chain Manager Do in Iowa?
Iowa boasts a solid infrastructure that presents unprecedented opportunities for manufacturers, distributors, retailers, and the professionals who create and maintain the supply chains that ensure the smooth and efficient movement of goods and services.
Iowa has one of the lowest costs of doing business in the nation and is a right-to-work state. Iowa's ideal Midwest location puts it smack dab in the middle of the country and near major markets like Chicago, St. Louis, Omaha, Minneapolis, and Kansas City.
Its transportation network, which is ideally designed to take advantage of both domestic and international business, consists of more than 113,000 miles of highways … about 4,000 miles of rail freight track… 491 miles of inland waterways… 60 barge terminals… and eight commercial airports that are capable of transporting 175 million pounds of cargo annually.
Iowa's system of roads is ranked 12th in the nation. Trucks here can reach more than 80 million people in one day's drive and 252 million people in a two days' drive. Nineteen freight carriers move about 260 million tons of freight throughout the state every year, while the state's waterways carry more than 12 million tons of freight every year.
As a result, Iowa's transportation and warehousing sector is strong and vast, comprising some 4,600 transportation and warehousing companies that employ about 65,000 people.
Opportunities in supply chain management can be found with manufacturers, transportation companies, warehousing companies, distributors, and more. As such, roles in the field are diverse and plentiful and range from entry-level managers to C-suite executives. Just some of the industries where you're sure to find ample opportunities to make your mark and build a career in supply chain management include:
Agriculture and Food Production
Iowa is responsible for producing about one-fourteenth of the nation's food supply and is the largest producer of corn, pork, and eggs. It's also a leading state for soybean and red meat production. You'll find many companies here associated with dairy, poultry, food ingredients, food processing, and meat and feed packaging.
The Greater Des Moines region is known as America's Cultivation Corridor for its expansive farmland and skilled workforce in the areas of agriculture, bioscience, and technology. This area is also quickly becoming a hot spot for agriculture innovation, with many leaders in agribusiness, agriscience, precision agriculture, and bio-renewables found here. Just some of the big names in agriculture innovation in the Des Moines region include Bayer, John Deere, Stine Seed Company, Vermeer Corporation, and Tyson Foods.
Renewable Energy and Fuels
Iowa enjoys a place of prominence for its production of renewable energy and fuels. Building off its agricultural foundation, Iowa has become a leader in wind energy, renewable fuels like ethanol and biodiesel, and biomass. It now ranks first in the nation for its production of both ethanol and biodiesel and second in the nation for its wind generation output.
MidAmerican Energy Company in Des Moines is a leader in renewable energy production in Iowa. This company provides energy to about 1.6 million customers in Iowa, Illinois, Nebraska, and South Dakota. As of 2022, MidAmerican Energy announced that it provided 88.5 percent of its customers' annual power needs from renewable energy. The company has plans to invest another $3.9 billion in wind, solar, and other renewable energy sources to reach its commitment of providing 100 percent of its customers with low-carbon sources by 2025.
Advanced manufacturing, which contributes about $30 billion annually to the GDP, encompasses everything from industrial metal processing to automotive precision machinery to power generation equipment. Iowa City has long been a landing spot for Iowa's advanced manufacturers. This metro area is home to national and international names like Procter & Gamble, Whirlpool, Collins Aerospace, and Oral-B.
Supply Chain Management Schools – Universities in Iowa Offering Degrees in SCM Online and On-Campus
Iowa has set the stage for a fulfilling and exciting career in supply chain management; now it's time to earn the degree that will take your career in the right direction.
Bachelor's degrees in supply chain management are designed as comprehensive programs that prepare newcomers to the field with a broad overview of both business and supply chain management concepts. Topics studied in these programs often include global supply chain management, project management, business analytics, and business data.
Master's degrees and post-baccalaureate and post-master's certificate programs in supply chain management serve as the ideal steppingstone for practicing supply chain managers and leaders with aspirations of climbing the corporate ladder. They may also serve as outstanding programs for career changers who want to refocus their career on this lucrative industry.
Graduate programs like the MBA in Supply Chain Management are often led by experts in the field and feature a variety of learning experiences, including case studies, group projects, and international learning opportunities. Students in these programs often study supply chain management as it relates to areas of business, like accounting, human resources, and international business. Courses explore some of the field's most relevant topics, such as sustainable business practices, the changing regulatory environment, and the challenges of a global business environment.
Whether your sights are set on earning an undergraduate or graduate degree in supply chain management, you'll find an outstanding selection of available programs in Iowa and across the country. Many colleges and universities now offer partially and fully online supply chain management degrees for outstanding convenience and flexibility for today's busy, working professionals.
There are no listings at this time. Check back, as we update listings often.