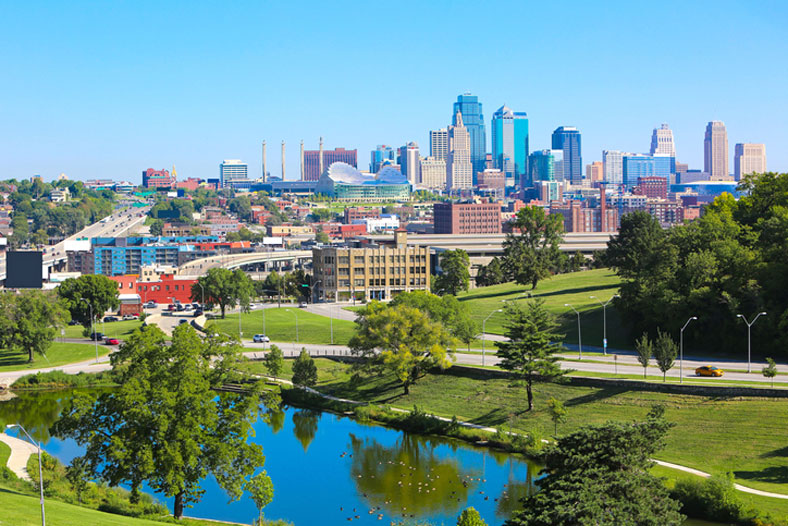 Kansas has always been a state with quite a few surprises up its sleeve. An unassuming state in the center of our nation's heartland, Kansas may not be the first thing that comes to mind when you think of efficient, effective supply chains, but that hasn't stopped it from becoming a hotbed for big corporations looking for exactly those qualities.
Take the Kansas City metro region, for example. Ideally located in the near-geographic center of the U.S., this metro used its spot on the map to become a major player in logistics operations.
Trade flows easily in and out of KC, making it a natural hub for manufacturing and distribution, both domestically and abroad. It's where no less than four major interstates (I-70, I-35, I-29, and I-49) intersect. It's home to two international airports (including KCI, one of the nation's top airports for air cargo), five Class 1 rail lines, and Port KC located along the Missouri River, the largest navigable inland waterway in the nation.
Kansas City has plenty of industrial space, a skilled workforce, and an infrastructure that goes toe to toe with any big Midwestern city. In 2020 alone, 13 supply chain companies in manufacturing, distribution, and professional services moved their operations to Kansas City. Urban Outfitters announced plans to open a $350 million distribution hub by 2022; Chewy Inc. announced it was opening a massive eCommerce center; and Dot's Pretzels announced plans to build a new manufacturing facility. This collective activity represented a $1 billion financial investment and the addition of about 4,000 jobs.
Some of the big players in Kansas City include the ecommerce, automotive, and food and beverage industries. It's become one of the largest auto industry trading hubs in North America. The transportation manufacturing industry in Kansas City is valued at $16 billion, and its food and beverage industry is valued at $226 billion. As of the first quarter of 2022, nearly 13 million square feet of industrial space was under construction – a record for this market.
Whether your career plans in supply chain management land you in Kansas City or in another region of the state, you'll find no shortage of opportunities here in the Sunflower State. It all starts with the right degree. Luckily, there's no shortage of supply chain management degrees at the undergraduate and graduate levels that will point your career in the right direction, available both online and on-campus right here in Kansas.
The New Kansas City International Airport Single Terminal: A Look at the Largest Infrastructure Project in the State's History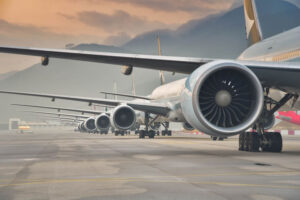 The largest single infrastructure project in Kansas City's history just opened in 2023 to much fanfare.
Priced at $1.5 billion and encompassing one million square feet and 39 gates, the improved Kansas City International Airport Single Terminal offers everything from glass jet-bridges to upscale dining establishments. The terminal is designed to offer a modern flying experience with optimal efficiency. Decidedly family friendly, the new KC International Airport terminal also includes features like family playrooms and infant feeding rooms. There's even dedicated quiet spaces available to calm stressed travelers.
KC International Airport is one of many airports throughout the country that have received facelifts in recent years in a push to welcome back travelers who put plans on hold during the COVID pandemic. Currently, John F. Kennedy International Airport and Newark Liberty International Airport are undergoing a $30 billion renovation, while Chicago's O'Hare International Airport just recently began its $8.5 billion modernization project.
The KC International Airport is particularly big news, as the airport hasn't seen any major renovations since it opened 51 years ago. And it couldn't come at a better time. Population here is increasing, with many people drawn to the region's affordable cost of living. The new terminal will create a more pleasant flying experience for travelers and will allow airport officials to better attract new airlines and expand the number of destinations it serves. And will all this, you better believe the new design will allow for more efficient movement of air cargo.
What Does a Supply Chain Manager Do in Kansas?
Roles in supply chain management are found at all segments of the supply chain, from manufacturing to distribution to warehousing to transportation. Inventory analysts, demand planners, warehouse supervisors, logistics supervisors… supply chain management professionals ensure the smooth and efficient movement of goods for companies in Kansas' key industries and beyond:
Food Processing and Manufacturing
Aptly named "The Breadbasket of the World," Kansas is a leader in the agriculture and food industries and has long been ranked first in the nation for its wheat production. From small family operations to major multinationals, Kansas is where you'll find no less than 15,000 agricultural companies that employ more than 103,000. The impact of the food manufacturing industry in Kansas is immense: this industry contributes about $5.2 billion to the state's economy and comprises nearly 21 percent of the manufacturing industry. Kansas is also renowned for its production of beef, flour, hay, corn, and soybeans and both pork and dairy production have increased significantly in recent years.
Kansas' exports of aerospace products total about $2.3 billion annually – that's about 20 percent of the state's total exports. The aerospace and defense sector contributes about $7 billion to Kansas' GDP and is supported by military installations like McConnell AFB, Ft. Riley, and Ft. Leavenworth, along with some 450 supply chain companies focused on engineering and manufacturing support for our national defense. Wichita – the Air Capital of the World – is home to some of the largest aircraft manufacturers in the world, including Bombardier Learjet, Textron Aviation, and Spirit AeroSystems.
Advanced manufacturing in Kansas is strong and swiftly growing, with companies here focused on manufacturing aviation equipment, fabricated metals, plastics, rubber, chemicals, computer electronics, and more. The manufacturing sector in Kansas consists of about 2,500 manufacturers that employ 165,000 people. It's no surprise that major global names like General Motors, Johnson Controls, Pfizer, and Honeywell call Kansas home. Each year, advanced manufacturers like these export about $9.4 billion of their goods to other countries.
Wind energy is a major player in Kansas' energy sector. Today, it comprises about 41 percent of the total electricity generated in the state, making it among the top five states in the nation for total wind energy generation. Kansas is also among the top four states in the country for its operating wind farms.
The Sunflower State also ranks fourth in the nation for its total biomass production. It's home to 12 operating biofuel facilities and is actively developing additional ethanol and biodiesel facilities.
Supply Chain Management Schools – Universities in Kansas Offering Degrees in SCM Online and On-Campus
There's no better way to either enter the field of supply chain management or advance within it than with a degree in supply chain management. Your natural leadership abilities, when combined with a degree in the field, will allow you to get your foot in the door or work your way up the career ladder in Kansas' thriving supply chain management field.
A bachelor's degree provides newcomers to the field with a comprehensive course of study in both business and the business of supply chain management. Core courses here include macro- and microeconomics; financial and managerial accounting; international business; marketing; project management, human resource management; and global supply chain management.
A master's degree or graduate-level certificate program in supply chain management provides a deeper exploration of the field, often as it relates to areas such as human resources, accounting, finance, and international business. Programs like an MBA in Supply Chain Management are taught by industry experts and include opportunities to engage with your peers and learn from leaders in top companies. International study opportunities and mentoring experiences are often part of a graduate program's curriculum.
Whether you're interested in pursuing an undergraduate or graduate degree in supply chain management, you'll find a host of programs, both in Kansas and across the country, that align with your career goals. Plus, a growing number of colleges and universities offer the option of earning your degree on-campus or online for the best in flexibility and convenience.
School of Business
Accreditation: HLC
Hybrid, online

Master's in Supply Chain Management
W. Frank Barton School of Business
Accreditation: HLC
Hybrid, campus

MBA with a Supply Chain Management concentration
MS in Management Science and Supply Chain Management