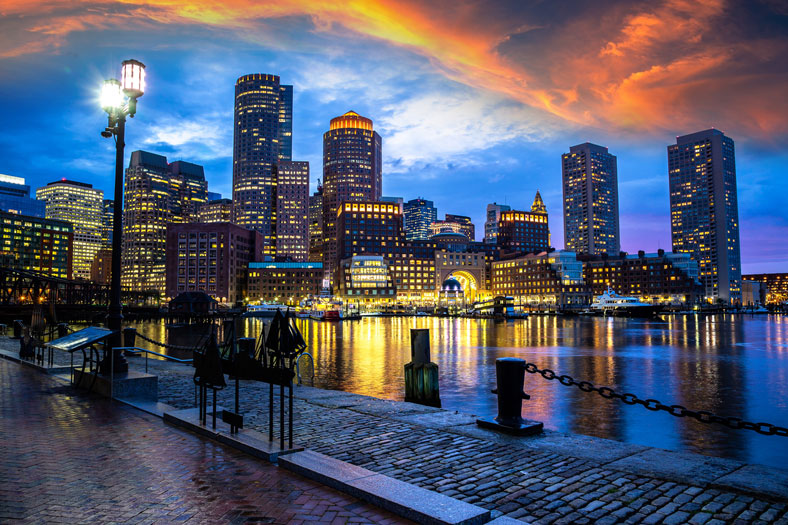 Massachusetts is a hub for biotech and biomedical equipment, yet it's also one of the top producers of seafood in the nation. It's where you'll find bustling metropolises like Plymouth and Boston alongside small, charming towns like Provincetown, Concord, and Nantucket. Massachusetts is a blend of old and new, where evidence of our nation's past is alive and well, but tomorrow's innovations are always right around the corner.
Despite the dichotomy of the Bay State, you'll always find a common objective: maintaining a resilient supply chain. Whether it's the state's famed fishing industry or the growing pharmaceutical industry… manufacturing companies, distributors, warehouses, or transportation companies… massive players like General Electric and Thermo Fisher Scientific, or emerging startups, all are helping to promote supply chain modernization in Massachusetts. With public and private sectors coming together, the state will maintain its place as a vital link in the global supply chain well into the future.
Take Sam Adams, for example, a Boston staple and major contributor to the regional economy. In 2023, they rolled out a supply chain modernization effort to improve their profit margins, and the result was nothing short of impressive. Their Q2 2023 earnings showed the strongest profit margins for the brewery in two years, largely related to procurement savings. Despite reporting higher operating costs, the company was able to drive savings and make improvements across its supply chain.
This supply chain overhaul included reviewing supplier contracts to stay on top of demand, optimizing its network to reduce freight and warehousing costs, and implementing new systems to improve inventory management.
Today, Massachusetts companies interested in shoring up and improving their supply chains have more help than ever. In March 2023, the Massachusetts Manufacturing Extension Partnership (MassMEP) launched CONNEX Massachusetts, an online marketplace that's designed to strengthen local and domestic supply chains by connecting Massachusetts manufacturers and suppliers. CONNEX Massachusetts serves as a searchable database where manufacturers can connect with each other and with suppliers to better manage their supply chains and discover new opportunities to grow their business. This powerful platform helps Massachusetts businesses improve their supply chain diversity and resiliency and connect with suppliers in their own backyards.
While efforts like this provide businesses with resources, it's up to professionals in the field to drive the change and implement the strategies that create more resilient, dependable supply chains in Boston, Cambridge, Framingham, Worcester, and beyond. Whether you're a newcomer to the field or you're a practicing supply chain manager with plans of working your way up the career ladder and into an executive-level role, you'll find a host of supply chain management degrees in Massachusetts to prepare you for success.
How Massachusetts is Working to Expand the State's Biomanufacturing Footprint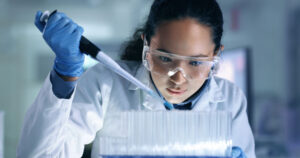 Massachusetts is where academia, medicine, and biotechnology converge. As a result, it's where you'll find some of the top biopharmaceutical companies in the world. In fact, more than 95 companies working out of Massachusetts were instrumental in the development of COVID-19 vaccines.
Both private and public entities know all too well that sustaining this life sciences powerhouse well into the future starts and ends with a solid talent pipeline. The Massachusetts Biotechnology Council (MassBio) outlined this push to ensure continued success in the life sciences industry in its State of Possible 2025 Report. Fierce domestic and global competition has made the expansion of Massachusetts' biomanufacturing footprint a necessity to ensure the state's long-term sustainability and resilience.
It will take an all-hands-on-deck effort to make this happen. Governmental agencies, trade organizations, startups, and investors all play a part in ensuring the talent pipeline in the life sciences sector continues to grow.
Fortunately, solid strides are being made throughout the state to make it happen. In fact, more than 16.5 million square feet of commercial lab space has been built in Massachusetts in the last decade alone, and it's now at or near capacity, both in Boston and in the East Cambridge's famed Kendall Square, largely seen as the epicenter of the state's life sciences sector. As a result, mini-clusters of life sciences companies are developing in other areas throughout the state.
MassBio has developed BioReady ratings that help biotechnology companies locate cities in Massachusetts to set up operations. For example, MassBio rated Lexington as a "platinum" community for its incentives for new and expanding companies and Hopkinton as a "gold" community for its growing talent pool.
One of the largest efforts is undoubtedly BioConnects New England, a multi-state coalition of more than 40 partners and more than 130 organizations across the region that works to accelerate the biomanufacturing industry's innovation and growth. Utilizing the resources and talent available throughout the region, BioConnects New England is working to advance the biotech industry, expand biomanufacturing, and provide new economic opportunities, particularly for economically disadvantaged areas and marginalized populations.
BioConnects New England works to develop and train individuals for laboratory and manufacturing operations in a variety of emerging fields like gene therapies and DNA/RNA technologies. This program also provides infrastructure and support to help companies prepare for commercial scale production.
What Does a Supply Chain Manager Do in Massachusetts?
Supply chain management professionals in Massachusetts work to create and maintain the supply chains that ensure the smooth flow of goods and services from the procurement of raw materials to retail distribution and everything in between. Fortunately, the state's outstanding infrastructure system supports their efforts.
Massachusetts, of course, enjoys a prime Eastern Seaboard location and easy access to major markets like New York City, Philadelphia, Baltimore, and Washington, D.C. Freight moves smoothly and efficiently in, out, and throughout the state, thanks to its system of roads, bridges, airports, and waterways that includes:
In 2017, Massachusetts' multimodal freight system transported 253 million tons of goods valued at about $502 billion. The Massachusetts Department of Transportation projects it will reach 351 million tons valued at $888 billion by 2045.
Whether you're interested in landing a job as a procurement analyst, inventory supervisor, supply chain director, operations managers, or logistician, you'll find outstanding opportunities to either get your feet wet or land that coveted C-suite position with companies within Massachusetts' key industries:
Massachusetts is home to some of the most nation's most productive commercial fishing ports in New Bedford, Gloucester, Provincetown-Chatham, Boston, and Fairhaven. In 2019, the fishing and seafood industry here was valued at $697 million, which ranked it second in the nation, behind only Alaska. While seafood export volume fell between 2019 and 2021, the value of these exports actually increased by 23 percent.
In June 2023, the Healey-Driscoll Administration announced that it was awarding $1.6 million in grants to commercial marine fisheries to support the state's seafood industry and create new programs and practices aimed at climate resiliency. Twenty businesses throughout the state are receiving this funding, which is offered as part of the Environmental Economic Innovation and Resiliency in Marine Fisheries Grant Program – part of the American Rescue Plan Act. Some of the companies receiving funding include:
Massachusetts' biomedical sector encompasses pharmaceuticals, medical devices, personal protective equipment, vaccines, and more. In 2019, Massachusetts topped the nation for its medical product exports, reaching about $6.4 billion. The state is home to more than 500 medical device manufacturing companies that employ about 25,000 people. According to the Massachusetts Biotechnology Council, the biotechnology sector is expected to add about 20 million square feet of laboratory and manufacturing space by 2024 and add about 40,000 new employees.
MIT and Harvard grads have long flocked to Massachusetts for its burgeoning biotech sectors. Today, Cambridge is home to more than 250 biotech companies, about half of which are in the famed Kendall Square. Just some of the big names in biotech here include:
Known as the nation's first tech hub, Massachusetts has long been home to emerging tech companies. In 2019, there were about 695 manufacturers that employed about 54,000 workers. Computer and electronic manufacturing ranked as the top industry by value, at $16 billion. A growing number of clean technology companies are also setting up shop in Massachusetts. It is estimated that these companies will add about 50,000 square feet of laboratory and manufacturing space and create about 200 new jobs by 2045.
In 2019, there were 317 chemical industrial companies in Massachusetts that employed nearly 15,000 people. During this time, the chemical product manufacturing industry ranked second in the state by value, at nearly $11.6 billion.
The state's advanced manufacturing industry accounts for about 250,000 employees and $60 billion in product output. Massachusetts also boasts twice the national average of computers and electronics manufacturing jobs.
Some of the largest employers in the advanced manufacturing industry in Massachusetts include
Aerospace, Defense and Robotics
The aerospace, defense, and robotics cluster in Massachusetts is formidable. Worldwide names in robotics like iRobot, Raytheon Technologies, and General Dynamics call Massachusetts home. In total, there are about 345 robotics companies in Massachusetts. The aerospace and defense industries here are supported by no less than seven military bases. It's the number one contracting state in the Northeast.
Supply Chain Management Schools – Universities in Massachusetts Offering Degrees in SCM Online and On-Campus
Whatever segment of the supply chain and industry you've got your eye on, chances are Massachusetts can deliver with outstanding career opportunities for everyone from entry-level managers to executives in a company's upper echelon. Exciting roles in supply chain management abound here, and the talent pipeline is ripe with opportunities.
Natural leaders with equal parts gumption and motivation are sure to find success in Massachusetts' supply chain management field. But they'll need a degree in the field to get their foot in the door. Luckily, Massachusetts is home to a number of colleges and universities that offer both undergraduate and graduate degrees in supply chain management.
Bachelor's degrees in supply chain management provide aspiring supply chain managers with a solid foundation in the field, preparing them to become adept, skillful supply chain leaders who oversee the efficient flow of goods and services for manufacturers, distributors, wholesalers, transportation companies, and more. These programs deliver both theory and practice in foundational areas of business, as well as in supply chain management concepts like lean operations, enterprise optimization, logistics, and global supply chains.
Master's degrees and graduate certificates provide practicing supply chain managers and career changers who've already earned a bachelor's degree in a similar field with a deeper exploration of the field. These programs, which are most often designed as Master of Science (MS) or MBA programs, examine supply chain management as it relates to international business, finance, human resources, accounting, and more. These programs offer a rich blend of theory and practice that arms students with the cutting-edge skills they need to succeed in the upper ranks of supply chain management. They often provide students with exciting experiential learning opportunities and personal mentoring from expert supply chain practitioners and researchers.
A growing number of colleges and universities, both in Massachusetts and across the country, now offer supply chain management degrees in partially and fully online formats. Designed to offer outstanding convenience and flexibility for busy, working professionals, these programs are often taught by the same faculty as on-campus programs and provide unparalleled support and guidance from industry experts.
Questrom School of Business
Accreditation: NECHE
Campus, hybrid, online