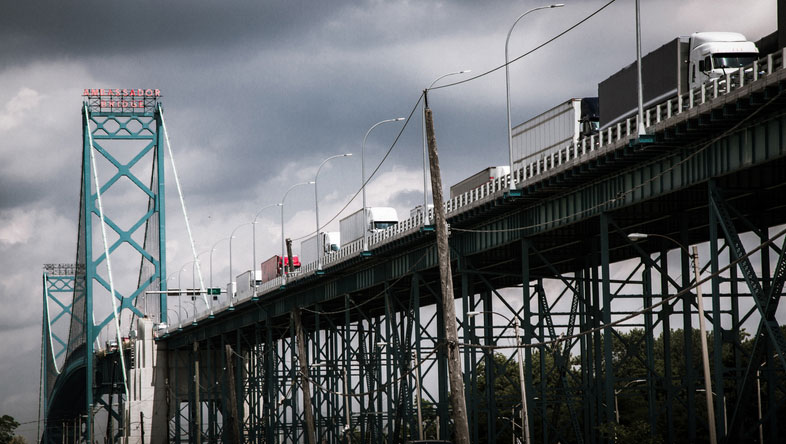 Everyone knows Michigan leads North America in automotive manufacturing, but that's just the beginning. Its shipping has direct lines to the Atlantic via the Great Lakes Waterway and to the Gulf via the Illinois Waterway and Mississippi. The state is intersected by major rail networks, crisscrossed by four interstates, and its largest city is just a four-hour drive from Toronto, the largest city in all of Canada.
It's not surprising that supply chain management leaders with experience and competitive credentials are valued in Michigan.
Just ask Bryce Currie, vice president of manufacturing and labor affairs in the Americas for Ford Blue. There's one person between him and Ford's President-CEO. Currie is responsible for Ford's largest industrial network which includes over 30 manufacturing sites.
MBA-equipped with an emphasis in supply chain management, Currie worked his way up to where he is now. He continued to distinguish himself in the workplace, applying the skills he developed in business school, first in GE Aviation, then Johnson Controls, and finally Ford. It's the degree he earned in supply chain management that gave him the chance.
Michigan's Auto Manufacturing Giants Inter-Dependent on Global Supply Chains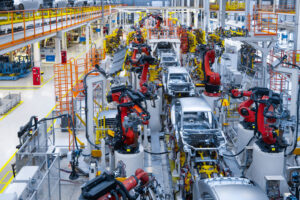 Home to world manufacturing leaders like Ford, Dodge, GM, and Chrysler, Michigan's automotive industry couldn't provide a better illustration of how important SCM leaders are.
Few consumer products have as many complicated components as vehicles, and in recent memory American supply chain dependency on global markets, particularly Japan, was underscored by the 2011 earthquake and devastating tsunami that hit that nation of nearly 125 million people.
As the world's second-largest vehicle producing country, Japan was and is also a global leader in automobile electronics. It's among the top-three foreign providers of auto parts to American car companies, with its major industry exports including:
Semiconductors
Fuel injection modules
Exterior lighting, such as headlights
Air bags
Immediately following the earthquake, tsunami, and resulting nuclear meltdowns Japan's power supply was projected to fall by 25%. As a downstream knock-on effect, analysts projected US auto production to fall by up to 400,000 units in just one quarter.
This sent Michigan's SCM managers scrambling, and those companies with better supply chain management saw it reflected in their stock price.
Japan's disasters were very geo-specific. During the Covid-19 pandemic Michigan's auto manufacturers once again felt a supply chain pinch, this time with a significant global shortage of computer chips.
In 2022 Ford alone saw a third-quarter supplier-cost deficit adding up to $1 billion. It attributed this to supply chain issues and inflation citing up to 45,000 vehicles that, but for a lack of certain components, were otherwise ready for shipping.
Responding to these developments Ford's acting Chief Supply Chain Officer said the company would restructure its global supply chain, though its share prices fell by four percent after news of its cost overrun broke.
Auto manufacturing is uniquely intertwined with global markets, and as the nation's capital of car production Michigan's supply chain leaders carry an exponentially greater burden to be adept, qualified, competitive, and educated professionals.
What Does a Supply Chain Manager Do in Michigan?
You can tell a lot about what an SCM professional does from the types of courses offered in MBA and master's programs with SCM emphases:
These are the types of courses from graduate-level academic programs that give you the tools you need to succeed in the real world. Earning a degree simultaneously signals to the HR departments of leading companies that you're serious and have what it takes.
Take Chris Scott as a tangible example. He's the current Vice President of Global Manufacturing Processes and Sustainability at Lear Corp, a Fortune 500 automotive electrical, door, and seating systems company based in Detroit.
Scott earned his university degree in Materials Logistics Management and has been with Lear through thick and thin ever since the early 90s. Today Scott is tasked with eliminating redundancies, standardizing best practices, and balancing inventory in a global supply context.
Leading academic SCM programs cover topics that are identical to Chris Scott's responsibilities today, and Michigan's corporate heavyweights recognize that qualified SCM graduates are worth more than their weight in gold.
In business for over 100 years, Lear currently employs nearly 170,000 globally. Today the company's total revenue is $20.9 billion with a 12-month preceding gross profit of $1.4 billion. Scott's education in logistics gave him what he needed foundationally to take the reins and help steer Lear towards the competitive success it enjoys today. This specifically includes:
Supply Chain Management Schools – Universities in Michigan Offering Degrees in SCM Online and On-Campus
We've sorted, ranked, and analyzed every academic supply chain management program in Michigan. Graduate-level programs in particular –MS and MBAs with SCM concentrations– are often offered online to accommodate the busy schedule of working professionals.
Whether it's an SCM graduate certificate program or an SCM graduate degree, don't miss the opportunity to earn the credentials that will maximize your career potential!
Central Michigan University
College of Business Administration
Accreditation: HLC
Campus, online

Eastern Michigan University
College of Business
Accreditation: HLC
Campus, hybrid, online

College of Business
Accreditation: HLC
Online

School of Management
Accreditation: HLC
Online

School of Business
Accreditation: HLC
Campus

Michigan State University
Broad College of Business
Accreditation: HLC
Campus, hybrid