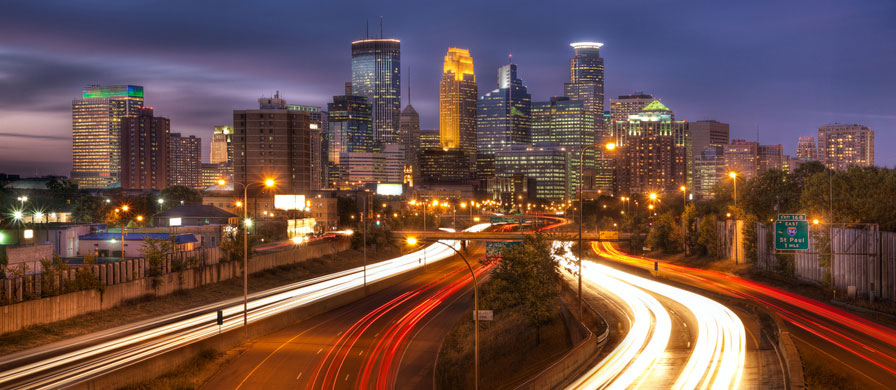 Though Minnesota ranks 22nd nationally in terms of population, it's among the top-10 states with the most Fortune 500 companies headquartered here. This has a lot to do with the business-friendly tax structure, and its geographical advantages.
Freight rail companies BNSF, Union Pacific, and Canadian Pacific all crisscross the state. Interstates I-90, I-94, and I-35 connect Minnesota with the rest of the nation, Canada, Mexico, and ports on the East and West coasts. Barge traffic at Duluth Harbor connects shipping with the Gulf of Mexico and the Eastern Seaboard.
For six of the past seven years, the Minneapolis-St. Paul International Airport has earned the distinction of providing the best international airport experience in an assessment spanning 90 countries around the globe, according to the Airports Council International. MSP is among the nation's top-20 busiest airports for both passenger and cargo traffic.
But while real estate might be about location, there's more to supply chain management than just being well-connected. You need natural leaders with a propensity for creative thinking, who have built on their innate talents by earning a degree in logistics and supply chain management.
While a bachelor's degree in SCM is a good start, if you look at the corporate leadership team of any major company in Minnesota or anywhere else, master's degrees and MBAs immediately stand out.
Take the corporate leadership at Best Buy for example, a company that does more than $40 billion in yearly revenue. Of the 16 people on their corporate leadership team over half have a graduate degree. Six have at least a bachelor's degree, four have an MBA, and three have a doctoral degree. Their Chief Supply Chain Officer holds an MBA from a school that offers an Operations Management concentration.
It's never too early or too late to earn the degree you need to gain a solid foundation in SCM.
Minnesota's C.H. Robinson Leading the 3PL Logistics Revolution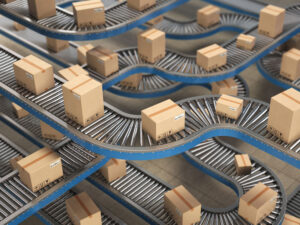 The advent of online shopping ushered in the predominance of a new supply chain era known as third-party logistics (3PL), and it has only grown ever since 90s' dot-com boom. Today it's estimated that at least 90% of Fortune 500 companies rely on 3PL for their customer fulfillment.
Though not a new concept, purchasing changes spurred by technological developments have seen 3PL become a dominant supply chain paradigm. 3PL is when a company outsources the customer-distribution part of its supply chain to a third-party company. This notably can include warehousing, storage, shipping, and delivery.
Based in the Minneapolis suburb Eden Prairie, the company C.H. Robinson has specialized in 3PL for over 100 years since the turn of the 19th century. In its inception C.H. Robinson's 3PL contracts meant working with food wholesalers to deliver perishable goods to customers before spoilage.
Since then, the company likes to say it's stayed close to its customers and markets ever since. This includes growing with and adapting to innovations that range from the first non-ice-based refrigerated truck to embracing the first days of e-commerce.
Today C.H. Robinson annually operates $30 billion in freight under management and turns over revenues approaching $25 billion, thanks in large part to its relationship with nearly 96,000 contract carriers. Its 17,000 employees serve 100,000 customers across the Americas, Europe, Asia, and Oceania.
It comes as no surprise that C.H. Robinson's Vice President of Europe Surface Transportation holds a BA in Transportation and Logistics. Its President of Enterprise Customer Strategy holds an executive education certificate on using supply chains to drive strategic advantage.
These professionals have the education they need to lead C.H. Robinson into the competitive marketplace of tomorrow. During the Covid-19 pandemic e-commerce saw an increase of 78%. By 2025 America's e-commerce dollar value is projected to top $563 billion. By 2026 the global 3PL industry is forecast to reach upwards of $1.3 trillion in value.
What Does a Supply Chain Manager Do in Minnesota?
Looking at the courses that make up an MS or MBA with a Supply Chain Management concentration gives you your first hint about what's involved in this field. You'll study things like:
Minnesota is home to major brands like Target, Best Buy, 3M, General Mills, and Land O'Lakes. Working in supply chain management with one of these leading companies means you must be flexible, smart, and quick-thinking to respond to any number of unforeseen issues.
Earning a degree in SCM prepares you to face real-world events and gives you the tools you need to respond to make-or-break situations involving multi-billion-dollar corporations.
Take Target for example. Facing massive competition from Amazon's increased focus on one-day delivery, in 2023 Target's Chief Supply Chain and Logistics Officer announced a $100 million investment to improve its own one-day delivery rate in major US markets. These funds will go towards the construction more than six new sortation centers, an increase of at least 67%, doubling down on Target's stores-as-hubs supply chain strategy for processing online orders.
The Covid-19 pandemic presents another example of just how versatile you must be if you work in this field. It's an understatement to say the pandemic threw a wrench into the global supply chain, including for St. Paul-based 3M (originally Minnesota Mining and Manufacturing).
A major producer of a vast array consumer products, 3M's Enterprise Supply Chain department first dealt with demand falling off a cliff with lockdowns, and then faced splash-back skyrocketing demand as consumers emerged with a zeal to make up for lost shopping.
But unfortunately for 3M's Shanghai-based manufacturing hubs, Chinese leadership stood alone globally as they continued to pursue a zero-Covid policy long after prudence called for it. 3M's supply chain leadership had to deal with a resulting lack of cargo space, factory backlogs, and extended shipping times.
And then Russia invaded Ukraine. This worsened supply chain constraints further to the extent that 3M's CEO announced in 2022 that the company would be facing supply chain setbacks for the foreseeable future.
There's a good reason why graduate education programs in SCM cover the global supply chain so thoroughly. What you learn about in a supply channel marketing class gives you the intellectual scaffolding to come up with a competitive business strategy like stores-as-hubs.
Learning about procurement and material management will serve you well when you're at the helm of your corporation's SCM department and global events dictate that you must re-source key imports from a new country.
Completing graduate education in SCM lays a strong foundation you can build on with professional experience. Not only will this maximize your career potential; today's global corporations also recognize that leaders with advanced education make great supply chain managers.
Supply Chain Management Schools – Universities in Minnesota Offering Degrees in SCM Online and On-Campus
We've analyzed every school offering a degree in SCM, at the undergraduate and graduate levels. There are tons of options when it comes to master's and MBAs with supply chain concentrations; there are so many online options nowadays that the hardest part is choosing the program that best fits your professional career goals. Graduate certificates are also available to augment your existing degree or to dip your toe in the SCM water before going all-in for an MBA or other master's degree.
There are no listings at this time. Check back, as we update listings often.