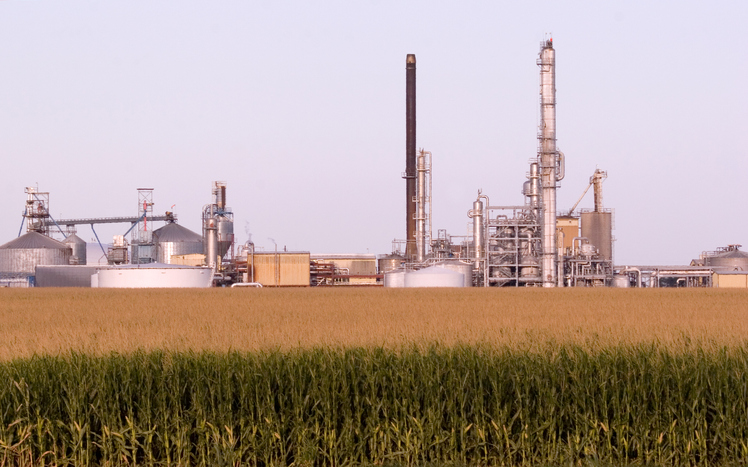 It's a bit of a cliche to discuss the agricultural industrial base when talking about big business in Nebraska. It's a big one, but it doesn't stand alone. Other big economic drivers include transportation, manufacturing, and the financial services industry.
Nebraska is the beating heart of the nation, a landlocked state that's home to major transportation companies that take advantage of the road and rail networks connecting it to the coasts, Canada, and Mexico.
Vital goods for companies and consumers transit through Nebraska, while exports take advantage of the same arterials.
Each company with an office in Nebraska has its own unique supply chain demands, relying on the expertise of skilled supply chain management leaders. There might be strong demand for product across all sectors of Nebraska's economy, and well-maintained transportation networks that connect the state with the rest of the world, but it doesn't mean much without talented supply chain and logistics professionals to tie it all together.
And what do businesses at every level look for in skilled SCM professionals to fill out their ranks? A bachelor's degree at minimum for entry-level positions, and more often a master's or SCM-focused MBA for advanced roles.
Why Some of the Nation's Biggest Logistics Companies Call Nebraska Home

Situated in the middle of the nation, it's only natural that Nebraska would be home to major road and rail transportation companies. Werner Enterprises and Union Pacific Railroad lead major routes that are the nation's supply chain arteries.
With over 8,000 semi-trucks, 24,000 trailers, and almost 13,000 employees, Omaha-based Werner Enterprises hasn't always been the national leader in transportation that it is today.
It got its start in 1956 when founder C.L. Werner bought a truck and started hauling cargo. After 20 years of hard work Werner could celebrate expanding to a fleet of 100 trucks, and by 1986 C.L. took the company public. It has continued to grow ever since and today hires people for positions like:
Transportation Manager
Associate Logistics Manager
Dispatcher
Logistics Specialist
Union Pacific Railroad traces its history much further back to when President Lincoln signed the Pacific Railway Act over 160 years ago.
Boasting the accomplishment of being the first transcontinental railroad with the world's largest railroad classification yard, today Omaha-based Union Pacific provides jobs for 33,179 employees. It operates 7,338 locomotives that carry 8.2 million annual carloads across 32,534 miles of track serving 10,000 customers.
Union Pacific keeps America moving with a logistical skill that looks like magic to an outsider. You can find jobs with this company with titles like:
Logistics Specialist
US Navy Supply and Logistics Specialist
Supply Chain Logistics Manager
Transportation Manager
Process Improvement Manager
Earning a degree in SCM is the perfect starting point for launching your career into a qualifying trajectory for any of these UPR and Werner job titles.
What Does a Supply Chain Manager Do in Nebraska
SCM principles are the same no matter what sector you work in. You can get your first hint of what supply chain managers do just by looking at the type of subject material that's covered in SCM academic programs.
For example, at the bachelor's degree level you'll be introduced to key topics like these:
The graduate level of education in SCM and logistics goes in-depth into subject areas including:
It's important to have the intellectual scaffolding you get from a degree in SCM and logistics. This gives you the framework you need to excel in this field. A math analogy would be that everyone knows multiplication and division, but you can do a lot more with an advanced knowledge of algebra.
Naturally, companies also recognize this, which is why a degree in supply chain management is often a prerequisite.
When it comes time to start applying your knowledge to the real world, there's no better way to do it than as a full-fledged supply chain manager. To be eligible to apply for SCM positions with Schneider Electric in Lincoln, you need at least a bachelor's degree in SCM, supply chain economics, or a related field.
Schneider Electric specializes in managing energy consumption with advanced sensors and data cloud-computing for residential, commercial, and industrial applications – think smart heating for your home. A supply chain manager with Schneider Electric is responsible for duties like:
Becton, Dickinson and Company (BD) is one of the largest medical technology companies in the world, with a location in Columbus. Working as a supply chain manager with BD requires at least a bachelor's degree in logistics, supply chain management, or related field like business administration or engineering; an MBA degree is preferred.
As a supply chain manager with BD, you're responsible for:
You can see how the subjects you study in SCM degree programs can be universally applied no matter what sector you work in. Knowing how to design a supply chain is an important skill to have whether you work with an energy management company, a medical technology company, or any other big-name employer with offices in Nebraska like:
Supply Chain Management Schools – Universities in Nebraska Offering Degrees in SCM Online and On-Campus
We've analyzed bachelor's degrees, master's degrees, MBAs, and certificate programs in supply chain management offered in-state, out-of-state, on campus, and online. This takes time; time that you can instead use for looking at the specifics of the most attractive SCM programs and figuring out which ones fit your career goals best.
The sooner you graduate, the sooner you can launch your career in supply chain management!
University of Nebraska Lincoln
College of Business
Accreditation: HLC
Online

University of Nebraska Omaha
College of Business Administration
Accreditation: HLC
Campus, online