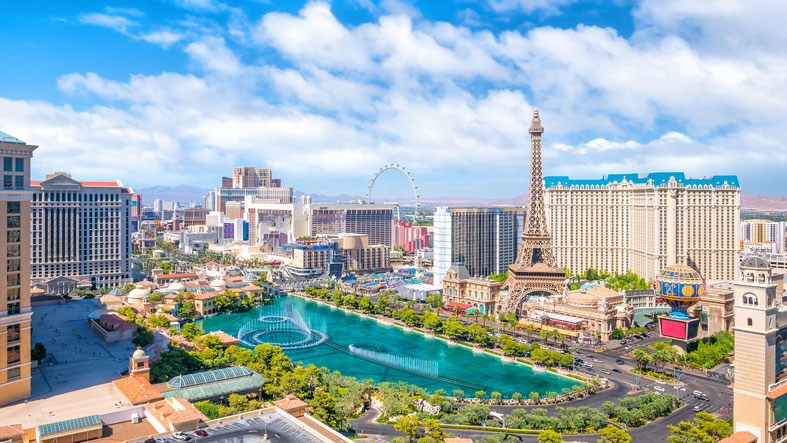 For most, the first thing that comes to mind when thinking about Nevada is Sin City. And to be fair, there's no denying the enormous impact the city's casinos, hotels, and service sector have on the state.
In 2022, visitors to Southern Nevada parted ways with $44.9 billion in losses on the Vegas Strip. Calculated on a per-visitor rate, that amounts to over $1,000 spent by every tourist. That year, the region saw total tourist spending top $79.3 billion, and it's estimated that tourism directly impacted over a quarter million jobs.
Consider those numbers in context: in 2021 the total number of people employed across Nevada was 1.2 million, and the state's total GDP in 2022 was $216 billion. Then add the fact that in 2022, Vegas' Harry Reid International Airport ranked 10th in the world for being the busiest airport by passenger volume.
No matter how annoying you might find the constant influx of tourists, they represent the biggest slice of the state's economy, arriving each year with an insatiable appetite for goods that rely on streamlined supply chains.
Well-oiled supply chains keep Vegas going day and night, providing the state with …
Nevada's supply chains are vital to the state's own needs too, not just the nation's R&R. Although it's home to some of the world's most modern and extensive supply chain infrastructure, these advantages wouldn't mean much without skilled SCM professionals to ensure goods arrive where they need to be at precisely the right time.
It takes at least a bachelor's degree to get your foot in the door, while the big roles with the big paychecks are reserved for those with an MBA or master's in supply chain management.
The Slot Machine Supply Chain Crisis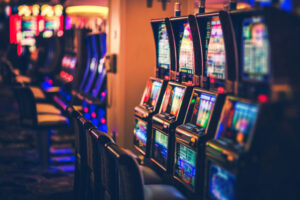 Anything that requires assembly involves a supply chain, and this most certainly holds true for the one-armed bandits you find dominating the floors at casinos across Las Vegas.
Slot machines rely on the same supply chains as any computer gaming PC or video game console: LED displays, resistive touch screens, graphics cards, and CPUs.
However, because they require cash or casino-issued vouchers to operate, electronic slot machines also need sophisticated computer chips that can detect forgeries and counterfeit money. These microchips go beyond what you'd normally find in a typical gaming system or arcade and are uniquely sensitive to perturbations in their supply chain.
As recently as 2022 slot machine manufacturers found themselves competing for these advanced chips with automakers, the military, Wall Street firms, and other major players with deep pockets who all need the most sophisticated semiconductors, which are primarily sourced from Asia.
The Covid-19 pandemic was the easy scapegoat for the chip shortage affecting the slot machine supply chain, however in reality the story involves politics –China persisted with a zero-Covid policy and strict lock downs long after the rest of the world opened up– and the complex push-and-pull effect of global supply and demand, not least of which includes the logistics of global shipping.
Some casino supply chain managers are doing a better job of weathering this shortage than others, highlighting the difference that education and experience can make for industry success.
In fact, by diversifying their supply chains for counterfeit detection chips, some casinos have not seen any interruptions in gaming machine deliveries. Others have been able to source their computer chips from suppliers outside of China.
But not every Las Vegas company has been so lucky. Some are still making up for delays in supply chains and waiting for hundreds of machines to arrive on back order.
The 2022 gaming machine supply chain crisis created a clear line between casinos that were largely unaffected and those that were forced to cut their business back. It's as clear a line as there is between professionals who are academically trained in supply chain management versus those who are just winging it. You can imagine which looks better on a résumé.
What Does a Supply Chain Manager Do in Nevada?
The principles of SCM are universally applicable across all economic sectors. In Nevada this includes:
You can get a sense of what supply chain managers do in Nevada by looking at what's offered in SCM academic programs. A bachelor's degree will introduce key topics in SCM like logistics management, global supply chain, and distribution.
Graduate-level SCM programs are offered in the forms of stand-alone master's programs, graduate certificate programs, and MBA programs with SCM concentrations.
There's not a black-and-white distinction between master's and MBA SCM programs; both can have a lot of overlap in terms of course content. An MBA is a widely-recognized credential, though a master's in SCM could be seen as being more tailored and specific. Whichever type you choose, rest assured knowing that companies will appreciate any graduate-level training in supply chain management.
Graduate-level programs in supply chain management cover topics like:
To work as a Planning and Procurement Analytics Manager with Big Fish Games in Las Vegas, you need at least a bachelor's degree in supply chain, analytics, business, or a related field. Job duties include:
To work as a Senior Manager of Lean Process and Logistics Engineering with slot machine manufacturer IGT (International Game Technology) you need at least a bachelor's degree in SCM, logistics engineering, or related field, although an advanced degree in such a field is preferred. Duties in this position include:
In addition to fulfilling minimum education requirements, earning a degree in SCM will give you the knowledge you need to be successful in supply chain management regardless of the sector you work in, especially as you work your way up the professional ladder and augment your education with experience.
Supply Chain Management Schools – Universities in Nevada Offering Degrees in SCM Online and On-Campus
We've analyzed every academic supply chain management program in the nation so you can focus on metrics like tuition, location (campus, online, hybrid), and degree level. It's important to gain the intellectual underpinnings you need to maximize your career's success and the credentials that are universally recognized by leading employers.
There are no listings at this time. Check back, as we update listings often.