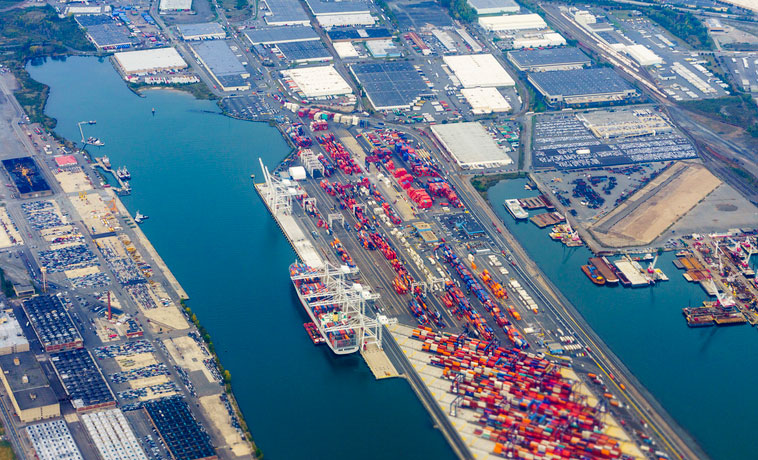 From logistics managers planning routes and processing shipments for medical device manufacturer New Jersey Precision Technologies in Mountainside … to procurement specialists finding the best quality aviation grade aluminum for Lockheed Martin in Moorestown – there's no shortage of opportunities in supply chain and logistics right here in New Jersey.
Whether it's a small grocer or a major multinational, the success of many companies in New Jersey depends on the efficient movement of goods and materials through the pipeline.
But it's not just business and industry that's concerned with the Garden State's supply chain system. Local, state, and federal government initiatives, bipartisan bodies, nonprofit organizations, multi-industry councils, and think tanks are also fully committed to ensuring the state's supply chain system is as healthy, robust, and efficient as it can be. Because without a strong supply chain, business and industry flee to greener pastures and both jobs and state revenue go with them. In short, everyone benefits when New Jersey has a strong supply chain.
Take the Council on Port Performance (CPP), for example, which was established in 2014. They're a think tank of pros who joined forces to find ways to improve the flow of goods, communication, and customer service in New Jersey. Consisting of industry volunteers with expertise in all areas of oceanic and intermodal transportation and logistics and led by the Port Department Director at the Port Authority of New York and New Jersey, the CPP considers and recommends approaches for improving the efficiency and reliability of the Port of New York and New Jersey.
It's all hands-on deck when it comes to New Jersey's supply chain system. From bachelor's degrees for those new to the field to master's degrees, MBAs, and post-degree certificate programs for career changers and current supply chain managers looking to take their careers to the next level, today's online degrees in supply chain management are comprehensive, providing students with the theory and practical knowledge they need to thrive in this dynamic industry.
Welcome to New Jersey's Neo-Panamax Era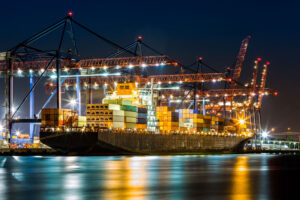 On July 8, 2016, the largest neo-Panamax containership to ever dock at New Jersey's Port Bayonne arrived, thanks to the enlarged Panama Canal (a massive undertaking that took nine years to complete). Now that the Panama Canal was widened, larger ships could make their way to New Jersey ports. The state, anticipating the changes about to take place, took action and began an ambitious $1.3 billion project that raised the clearance of the Bayonne Bridge. The construction began in 2013 and lasted four years, and the result was impressive: the bridge's clearance went from 150 feet to 215 feet.
By 2017, New Jersey was ready to accept the largest neo-Panamax ships. It was a gamechanger for the state and for international trade and commerce. Containerships as large as 18,000 twenty-foot equivalent units (TEUs) could now make their way to Port Newark and Port Elizabeth.
On September 7, 2017, the T. Roosevelt containership arrived in Port Elizabeth. At more than 14,000 TEUs, it was the largest shop to ever dock at an East Coast port.
The work on the Bayonne Bridge ushered in a new era for New Jersey business and industry. Larger ships mean lower international shipping costs, particularly for companies who ship to, or receive products from, Asian markets. Shipping timelines are also reduced, satisfying companies who benefit from same-day delivery. And thanks to New Jersey's FTZs, companies can keep costs low by deferring the duty they must pay on goods.
In the last six years, many companies have chosen to locate or expand here. And it's no wonder… According to Choose New Jersey, a distribution center in central New Jersey can reach more than 22 million consumers within a two-hour drive. Because of the improvements made in New Jersey, the U.S. Department of Commerce predicts a 10 percent shift in container movements from the West to the East Coast in the coming years.
At the same time the work on the Port Bayonne was conducted, other improvements were being made in anticipation of the increase in shipping volume. The Port Authority and the Army Corps of Engineers began a $1.6 billion harbor dredging project.
And improvements are still being made:
The Port Authority has been building out the rail system in Port Newark to facilitate the important land-sea connections. CSX Railroad, which owns more than 23,000 miles of track, is making its own infrastructure improvements.
Companies are snatching up warehouses in anticipation of increased volume. Many companies are expanding cold storage capabilities, and areas near New Jersey's ports are seeing a rise in industrial and real estate development.
The state has invested more than $250 million to expand the roadways and alleviate traffic coming in and out of the ports.
What Does a Supply Chain Manager Do in New Jersey?
Though opportunities for supply chain managers exist throughout the country, New Jersey rises to the top for its unique location along the East Coast and the Northeast Corridor.
New Jersey's massive transportation infrastructure is responsible for the movement of 600 million tons of goods every year. And while the state serves as a conduit for the movement of cargo in and out of the U.S., about two-thirds of all domestic freight in New Jersey stays in the state.
It's home to unrivaled road and rail networks (including nearly 3,000 miles of interstates and highways and the highest density railroad network in the U.S.); one of the top airport systems in the country; and the Port of New York and New Jersey, the largest maritime cargo center on the East Coast and the second busiest seaport for imports in North America.
Newark Liberty International Airport is a hub for express carriers like UPS, FedEx, and DHL, and because it's strategically located near Port Newark and the Elizabeth Port Authority Marine Terminal, companies here enjoy outstanding air-sea connections. New Jersey is also home to no less than five Foreign Trade Zones (FTZs) that are strategically located throughout the state. FTZ #49 is the largest contiguous FTZ in the U.S., sponsoring nine active Foreign Trade subzone operators alone.
With this type of expansive infrastructure system, it comes as no surprise that some of the biggest multinationals have chosen New Jersey for their operations. In fact, 15 Fortune 500 companies call New Jersey home. This couldn't be better news for aspiring and current supply chain managers, who often enjoy outstanding job opportunities with companies in the state's top sectors:
The advanced manufacturing sector contributed $54 billion to New Jersey's GDP in 2020, which was about 10 percent of all output. More than 2,500 advanced manufacturers, employing about 250,000 workers, are located in New Jersey. Big names include Anheuser-Busch, Benjamin Moore, and Bristol-Myers Squibb are just a sampling of the advanced manufacturing sector of New Jersey.
Manufacturing here includes petroleum, food, defense, medical, and much more. The largest segment in the advanced manufacturing sector is chemical manufacturing, which accounts for about $18 billion of the state's GDP and employed about 45,000 people as of 2020. In fact, New Jersey has one of the largest chemical manufacturing clusters in the U.S. Some of the big names include North America's largest copper and zinc compound manufacturer, Old Bridge Chemicals, and Ethicon, one of the largest companies in the U.S. for surgical appliance and supplies manufacturing.
Thanks to its enviable East Coast location and superb infrastructure, New Jersey has become known as the "warehouse state." Some of the largest companies in the U.S. — Sonoma, Coca-Cola, IKEA, Crate & Barrel, Five Below, to name just a few— have major distribution centers here.
New Jersey has long been home to some of the world's biggest food companies. Campbell Soup Company in Camden, Mars Wrigley in Hackettstown, Bai Brands in Princeton—they're but a small sample of the many food companies that rely on New Jersey's supply chain managers to move their food and beverage products in and out of the state. In fact, more than one-third of the major food companies in the U.S. are located in New Jersey.
Supply Chain Management Schools – Universities in New Jersey Offering Degrees in SCM Online and On-Campus
Online and on-campus… undergraduate and graduate… there's no shortage of degree and certificate options for today's aspiring and practicing supply chain managers.
Because the supply chain industry is incredibly broad, calling for a host of experts in everything from warehouse management to logistics to port management and beyond, bachelor's degrees in supply chain management provide those new to the industry with a comprehensive overview of the management of supply chains. Many of these programs also provide an exploration of related disciplines, such as accounting, economics, finance, and information systems and offer real-world experiences that prepare students to make decisions related to the operation of supply chains.
Master's degrees and post-degree certificate programs in supply chain management are valuable additions to current supply chain managers and career changers. Master's degrees are often designed as MS or MBA degrees, with many offering a more focused course of study in areas such as finance, accounting, and business. These programs allow students to connect and engage with supply chain experts, researchers, and industry leaders. Case studies, simulations, and hands-on projects allow students to develop a mastery of supply chain management to advance in the field.
Rutgers Business School
Accreditation: MSCHE
Campus, online, hybrid