New York is the epicenter of business, and the very nucleus of American industry. That means it's an all-hands-on-deck effort to ensure the state's supply chain is efficient, resilient, and always growing to meet the needs of industry.
Most recently, New York has turned its attention to offshore wind energy. The New York State Energy Research and Development Authority (NYSERDA) has committed to developing at least 9,000 megawatts of offshore wind energy by 2035 – representing one of the nation's largest single commitments to green energy. And chances are, they'll deliver on this goal.
After all, they have the infrastructure to make it happen. In addition to a prime location in the Northeast, New York is home to outstanding core manufacturing interests, one of the most extensive university systems in the nation turning out talented engineering and supply chain professionals, and the nation's strongest workforce.
NYSERDA is working to bring together state agencies, labor organizations, businesses, and the global offshore wind industry to create a bold, New York-centered supply chain that will create jobs and generate revenue for the state, all while making strides toward a less carbon-intensive economy.
How Rebuilding Will Ensure the Continued Success of New York City's Freight System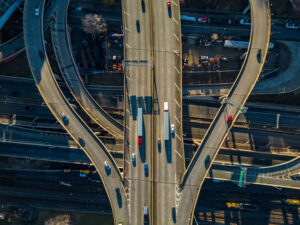 In 2016 alone, 198 million tons of freight moved through NYC's system of highways, marine terminals, rail lines, airports, and distribution centers. By 2045, freight is projected to increase to 312 million tons.
A massive freight system requires an equally massive transportation system to keep things moving. In NYC, that includes more than 1,300 miles of truck routes, more than 90 miles of rail freight lines (and nine freight rail yards), more than 170 million square feet of warehouse and distribution space, six marine terminals, and the air cargo hub of JFK International Airport.
But most of us don't give New York City's transportation infrastructure its fair due. We all want our stuff when we want it, but we're not so concerned about how it gets there. This is a problem, for sure, considering that the very infrastructure that millions of people rely on to get their goods from Point A to Point B is quickly aging and becoming obsolete.
For example, more than 90 percent of the freight moved in and around the city is accomplished using trucks, yet NYC's highway infrastructure has seen better days.
Thankfully, there's a whole group of pros and experts whose sole focus is on the city's aging infrastructure system and how to make it better. Freight NYC, which is part of the New York City Economic Development Corporation (NYCEDC), estimates that freight volumes are projected to grow by 68 percent by 2045. They also recognize that in addition to an aging highway system, the city has failed to consider the value of its maritime and rail systems.
But they have a plan.
Freight NYC has several initiatives in place that include modernizing and developing new distribution facilities and repairing and modernizing infrastructure, both of which will result in thousands of new jobs, reduced shipping costs, and creating an environmentally sustainable and resilient supply chain.
Some of Freight NYC's lofty plans include:
Developing a hub-and-spoke marine highway barging system – Doing so would allow the movement of palletized cargo through the region's waterways, thereby reducing congestion and pollution on the roadways.
Improving the rail system – Highway congestion and a focus on reducing air pollution has made rail freight a contender once again, and NYC is ready to take advantage of it. Plans include the construction of new transload facilities in both Queens and Brooklyn that will provide direct access to the national rail network and the construction of sidings to allow trains traveling in opposite directions to pass one another.
Modernizing freight hubs – In order to accommodate the city's freight, Freight NYC is working to encourage the development of freight hubs and improvements in rail infrastructure in Brooklyn, the Bronx, Queens, and Staten Island.
Solid supply chains in New York are nothing new, with several regional and state-level agencies collaborating to ensure labor, business, and industry are always in sync:
Whether you've just begun exploring where a career in supply chain management can take you in New York or you're a current supply chain manager with aspirations of taking your career to the next level, one thing's for sure: outstanding opportunities await you in New York.
Now it's time to consider the value of adding a bachelor's, master's, or post-degree certificate program in supply chain management to your resume so you can begin taking advantage of all that New York has to offer.
What Does a Supply Chain Manager Do in New York?
Whatever link of the supply chain system you lend your talents to (logistics, procurement, distribution, inventory management, operations, etc.), New York has a place for you and your career. New York has always been firmly committed to, and laser focused on, the health of its infrastructure, making it a solid contender in a constantly changing, always challenging global economy.
Home to one of the most extensive infrastructure programs in the nation, New York doesn't shy away from behemoth-sized projects and initiatives. Most recently, these include:
From agribusiness to cleantech and renewable energy to biotech and life sciences to industrial machinery and systems, New York State is where business and industry settle for unmatched opportunities. It's also where you'll find unparalleled opportunities to build a career in supply chain management:
Supply Chain Management Schools – Universities in New York Offering Degrees in SCM Online and On-Campus
Whether you have your sights set on the renewable energy industry, the materials manufacturing industry, or the robotics sector, chances are you'll find a host of career opportunities in supply chain management in New York.
Careers in supply chain management, while all collectively focused on the efficient and cost-effective movement of goods and services through the supply chain, vary greatly and require different skills and knowledge. Quality control, inventory control, strategic sourcing, transportation and shipping, warehousing… there is a plethora of opportunities to get your feet wet or rise through the ranks in supply chain management.
In this field, a career usually begins with earning a bachelor's degree in supply chain management or logistics. These undergraduate programs provide students with a broad examination of the industry and an overview of topics like risk and compliance, the principles of supply chain management, and the management of information systems.
For career changers and current supply chain managers, a master's degree in supply chain management provides a deeper exploration of what it means to lead in a supply chain environment. Usually designed as a Master of Science (MS) or MBA, these programs provide unique opportunities to gain valuable industry experience and learn from leaders in the field. Plus, many of these programs are offered in partially or fully online formats that align with the needs of today's busy, working adults.
Robert B. Willumstad School of Business
Accreditation: MSCHE
Campus, online

David D. Reh School of Business
Accreditation: MSCHE
Online

Accreditation: MSCHE
Campus, online

Holzschuh College of Business Administration
Accreditation: MSCHE
Campus, online, hybrid

Rensselaer Polytechnic Institute
Lally School of Management
Accreditation: MSCHE
Campus

School of Business, Science and Humanities
Accreditation: MSCHE
Hybrid, online

Martin J. Whitman School of Management
Accreditation: MSCHE
Campus, online, hybrid

School of Management
Accreditation: MSCHE
Campus