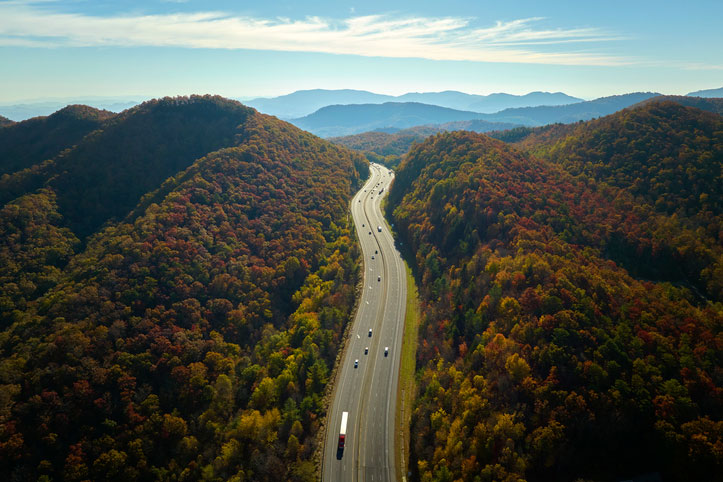 Lower transportation, labor, and industrial storage costs and a favorable business climate have made the Tar Heel State among the best places in the nation to do business. In fact, in 2023, Forbes ranked North Carolina #1 among the Best States for Business, citing everything from its labor supply to cost of doing business and prospects for growth.
North Carolina knows all too well that you can't have a strong business climate without a strong foundation, and that includes infrastructure that supports efficient supply chain operations. Never ones to rest on their laurels, North Carolina's policymakers, industry groups, and corporate leaders are always looking for ways to streamline the movement of materials and goods in and out of the state. And in late 2021, the CSX Carolina Connector became the state's latest addition to their supply chain system. After nearly five years of construction, this intermodal rail terminal opened to much fanfare, particularly among the state's logisticians.
The Carolina Connector, located in Rocky Mount, is a massive terminal that allows rail containers to be offloaded from arriving freight cars and then loaded onto other trains and trucks that carry product to the final destination. Currently, the Carolina Connector can handle about 1.3 million containers each year. However, it was built to expand and eventually grow to handle nearly 2.5 million containers a year. The Carolina Connector is seen as particularly useful in the wake of post-pandemic seaport and rail terminal disruptions that left containerships stacked up along the East Coast. Its prime location – minutes from I-95 and about halfway between Boston and Miami – has allowed North Carolina rail to become a valuable option for companies using the major East Coast highways and seaports.
Even more good news: In November 2021, the Wilmington Midwest Express was launched. This direct rail connection linking the Carolina Connector with Midwestern states will facilitate the movement of containers from major East Coast ports to the Midwest, reducing transit times and shipping costs.
From inventory management to procurement to distribution, management and leadership positions in logistical and supply chain operations are key to a robust industry that's showing no signs of slowing down.
North Carolina continues to be a leader in logistics, which makes your decision to either enter the field of supply chain management or work your way up the career ladder a smart career move. Whether you're looking at bachelor's degrees in supply chain management to kickstart your career or have your sights set on a graduate degree in supply chain management to secure a top-level C-suite position in the field, you'll find a wealth of exciting educational options, both online and right here in North Carolina.
Offshore Wind Energy Development Set to Become North Carolina's Next Big Economic Driver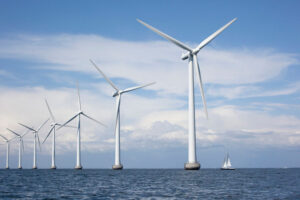 New jobs, new opportunities… and a cleaner future are on the horizon in North Carolina.
If offshore wind energy development comes to fruition in the Tar Heel State, it will mean billions of dollars in investment and thousands of new jobs – and will make North Carolina a leader in renewable energy in the process.
North Carolina is primed and perfectly positioned to become the next big leader in offshore wind energy. Recognized as having the second-highest offshore wind net technical energy potential in the United States, North Carolina is the natural choice to commit to offshore wind energy. It's home to about 322 miles of shoreline, making it an outstanding state to harness the energy of wind power.
And thanks to its pro-business environment (boasting the lowest corporate tax in the U.S.), its manufacturing workforce (the largest in the Southeast), its outstanding infrastructure (includes two seaports, four international airports, and the nation's largest consolidated rail system), and its manufacturing GDP (ranked fifth in the nation and first along the East Coast), North Carolina isn't just suitable for offshore wind energy development, it's downright picture-perfect.
Currently, state officials and industry officials are focused on three areas for development: two near Wilmington and one in Currituck County, off the coast of Corolla in the Outer Banks. The North Carolina Department of Commerce has assembled a 30-member task force, which is made up of the private and public sectors, advocates, community leaders, and the military. From transportation to legislations to economic development to manufacturing, this task force boasts expertise in a wide range of areas and is ready to help North Carolina develop the manufacturing and supply chain it'll need to make offshore wind energy a reality.
The task force is responsible for:
Identifying opportunities and challenges that the offshore wind industry will bring to North Carolina
Creating and recommending policies that will directly help propel the development of the industry
Finding supply chain, workforce, and infrastructure solutions to advance the development of the industry
Both the environment and the economy will benefit from offshore wind energy development in North Carolina. The supply chain, infrastructure, and workforce development alone could generate upwards of $140 billion in expenditures and result in a surge of money into the state's economy – about $4.6 billion by 2030, to be exact. Add the benefits of fewer carbon emissions, and the total could climb by another $8.4 billion. And thanks to North Carolina's strong manufacturing economy and infrastructure may allow the state to become America's first manufacturer of wind turbines, which are now made mostly in Europe.
North Carolina is not venturing into the offshore wind energy development industry alone, either. It's partnering with Virginia and Maryland to promote, develop, and expand this industry.
The three states have come together to form the Southeast and Mid-Atlantic Regional Transformative Partnership for Offshore Wind Energy Resources – known as SMART POWER. Through this agreement, they will work together to create a policy and best practices framework to generate income and jobs and deliver outstanding environmental benefits for the region.
What Does a Supply Chain Manager Do in North Carolina?
North Carolina as a logistics hub just makes sense, which is why a growing number of companies are choosing to either establish or expand their manufacturing and logistics operations here.
Its prime, East coast location and temperate climate have always made it an attractive location, as is its easy access to major interstates like I-95, I-85, and I-40. It's located on key Atlantic shipping lanes and is home to two major shipping ports in Wilmington and Morehead City. It's also where you'll find one of the largest consolidated rail systems in the country – more than 3,200 miles of track – that's been recently reinforced by the CSX Carolina Connector, and it's served by four major international airports, making it the sixth busiest airline hub in the U.S.
Supply chain managers in North Carolina have their hands full, particularly as companies look to create or grow their operations here. Just some of the industries where growth is particularly strong include:
Supply Chain Management Schools – Universities in North Carolina Offering Degrees in SCM Online and On-Campus
From the orchestrators – the supply chain analysts and directors, to the planners – the inventory managers and productions planners, to the executors – the operations, logistics, and warehouse managers, careers in supply chain management are as plentiful as you'd imagine. Whether you're looking to build a career from the ground level, pivot your current skills in areas like facilities management, human resources, or accounting to the supply chain sector, or build upon your current skillset to land an executive leadership position in the field, earning a degree in supply chain management should be part of your career plans.
Bachelor's degrees in supply chain management serve as the ideal foundation for a career in the field. These programs provide a broad overview of supply chain management, exploring topics like procurement, production, logistics, project management, and more.
Master's degrees in supply chain management, which are designed as either MBA or MS degrees, allow career changers or current supply chain managers to explore the field more deeply and gain unique perspectives through hands-on learning experiences and from experts in the field. Graduates of master's degrees in supply chain management are prepared to assume leadership and C-suite positions that call for experts in logistics and supply chain networks.
Degrees in supply chain management are constantly growing in numbers in response to a swiftly growing, globally focused industry. You'll find a nice variety of supply chain management undergraduate and graduate degrees, both in North Carolina and across the country, that align with your professional goals. Best of all, many of these programs are offered in partially or fully online formats that provide busy, working professionals with superb convenience and flexibility.
 College of Business
Accreditation: SACSCOC
Campus, online

Earl N. Phillips School of Business
Accreditation: SACSCOC
Online

University of North Carolina at Greensboro
Joseph M. Bryan School of Business and Economics
Accreditation: SACSCOC
Campus, online, hybrid