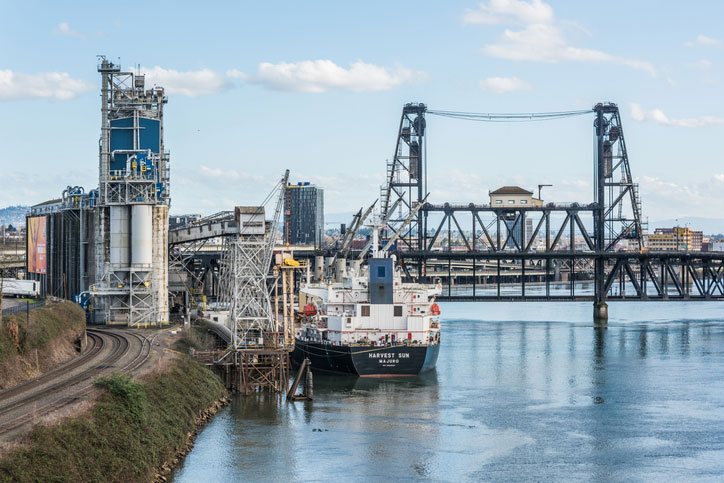 Oregon is preparing for a sustainable future, which includes relying on goods and materials that can be sourced locally, or at least domestically. Building and cultivating a strong local supply chain calls for experts at all levels. From warehouse managers to inventory analysts to supply chain strategists, it's all hands on deck.
But make no mistake, sustainable sourcing isn't restricted to what you might typically think of as green products. In June 2023, the Oregon Senate signed a landmark "Buy America" bill that will, among other things, transform the state's steel and iron procurement practices to better align with federal standards. Through the focused efforts of the Oregon Department of Transportation and the Department of Administrative Services, the state will prioritize the use of domestically manufactured iron and steel in public works and public improvement transportation and construction projects.
This simple act will create jobs while also reducing the state's carbon footprint. And Oregonians will appreciate that their tax dollars are going to domestic manufacturers. The Buy America bill will complement the state's "Buy Clean" law that seeks to use low-carbon construction materials like steel, cement, and asphalt.
For Oregon corporations like EVRAZ Oregon Steel Mills in Portland, Cascade Steel Rolling Mills in McMinnville, Oregon Steel Mills in Portland, Superior Steel Fabrication in Eugene, and Tube Specialties Co. Inc. in Troutdale, this means new opportunities to serve the state and forge new relationships with Oregon suppliers, distributors, transportation companies, and more.
And for the state's supply chain managers and leaders, it means plenty of opportunities to reimagine and reinvent current supply chains to maintain the flow of materials and products in and out of Oregon.
Whether you're already working in supply chain management in Oregon or you're considering a move into this exciting field, the right degree is a must. From bachelor's degrees for those new to the field to master's degrees and post-master's certificate programs for career changers and currently practicing supply chain professionals, a supply chain management degree is designed to equip you with the skills and industry know how you'll need to succeed.
The CHIPS and Science Act Puts Big Semiconductor Plans on the Horizon in Oregon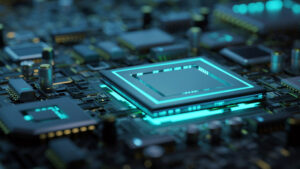 The Oregon legislature is betting on a solid future, with semiconductors as the main attraction.
In August 2022, the Biden-Harris Administration announced the creation of the federal CHIPS (Creating Helpful Incentives for Producing Semiconductors) and Science Act to boost domestic semiconductor research, development, and production. (Currently, the U.S. produces just 10 percent of the world's supply.) The $53 billion CHIPS and Science Act, along with private semiconductor investment throughout the U.S., is aimed at increasing production of semiconductors and shoring up national supply chains.
With billions in federal grants and tax credits up for grabs, Oregon's legislators have approved $200 million in state spending to compete for a piece of the pie and grow the state's semiconductor industry in the process. The plan is clear: position Oregon as a leader in advanced manufacturing in the years and decades to come.
Called Oregon CHIPS, this state plan that will be divided as follows:
$190 million for businesses with plans to conduct domestic semiconductor manufacturing
$10 million for universities to produce research that matches federal grants
$10 million as a loan fund to help local governments develop industrial sites
By getting in on the federal incentive to boost domestic semiconductor manufacturing, Oregon hopes to become the next big thing in semiconductors. Today, most semiconductors are made in Taiwan, South Korea, Japan, and Singapore. The United States is racing to become a world leader in semiconductors to secure our national future and protect our national security.
Currently, Oregon's semiconductor industry accounts for about 15 percent of the nation's semiconductor workforce, or about 40,000 workers. It's also home to Intel, which is the state's largest private employer. More than 20,000 Intel employees work at the company's plants in Aloha and its research and development plant in Hillsboro.
The CHIPS bill also includes language that will allow new urban growth boundaries to be created to create the room for eight industrial sites, two of which must be at least 500 acres each. Hillsboro has about 777 acres of land available for industrial development, 373 acres of which is outside of the urban growth boundary, the state-approved limit that was put into place nearly a decade ago.
What Does a Supply Chain Manager Do in Oregon?
Oregon Business & Industry, the state's business advocacy group, calls Oregon's manufacturing sector "vibrant and innovative," but many are also sure to call it ripe with opportunities in supply chain management.
Here's why.
Oregon's manufacturing sector is robust, long outperforming national GDP and growth trends. It's highly productive and responsible for driving the demand for business and industry throughout the state. Transportation companies, suppliers, warehouses, distributors, retailers… everyone benefits from a strong manufacturing sector.
It employs about 214,000 people and contributes more than $33 billion annually to the state's GDP. The following industries represent about 80 percent of all manufacturing jobs in Oregon:
The movement of goods and services that support the manufacturing sector is left in the capable hands of Oregon's supply chain managers and leaders.
Purchasing managers, inventory planners, procurement specialists, export managers, plant managers… Jobs in supply chain management are found at all segments of the supply chain system, from creation to delivery, and at all levels, from entry-level manager to C-suite executive. The importance of the supply chain management field and the many roles within it can't be overvalued, particularly when companies kickstart or expand operations.
Just some of the recent manufacturing news in Oregon where you're sure to find exciting opportunities in supply chain management includes:
Supply Chain Management Schools – Universities in Oregon Offering Degrees in SCM Online and On-Campus
Degrees in supply chain management continue to grow alongside jobs in this exciting field of study. Whether a career in supply chain management takes you into purchasing, manufacturing, inventory management, demand planning, warehousing, transportation, or beyond, you'll need a solid education under your belt.
Bachelor's degrees in supply chain management provide a comprehensive introduction to this field, featuring a robust blend of engineering, operations, and business courses. Topics studied in these programs often include supply chain design, facility planning, logistics, and operations management.
Master's degrees in supply chain management, which are most often designed within an MBA program or as a Master of Science (MS) program, provide a deeper dive into supply chain management, often exploring the field as it relates to economics, accounting, marketing, and human resources. These programs are often taught by experienced pros in the field and include exciting experiential learning opportunities that allow students to begin applying what they've learned in the classroom.
From recent high school grads to career changers to currently practicing supply chain managers with aspirations of executive-level roles, everyone benefits from a supply chain management degree. And thanks to the rising number of these programs, both in Oregon and throughout the country, and the large number of programs that are offered in partially or fully online formats, you'll have more options than ever when it comes to finding a program that aligns with your career goals.
Portland State University
School of Business
Accreditation: NWCCU
Campus, online