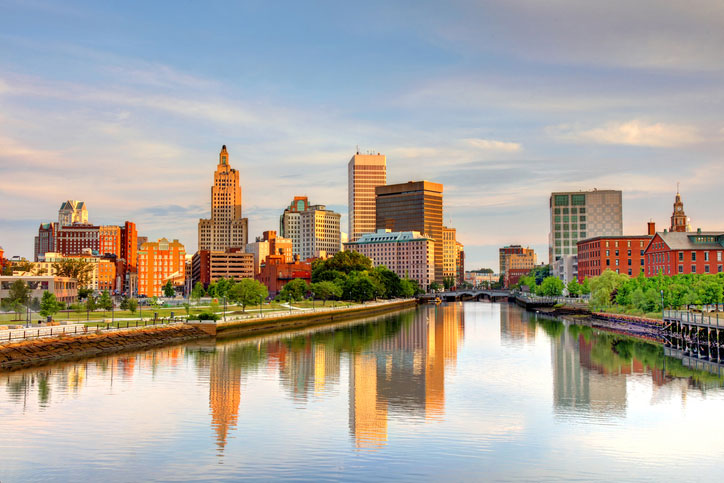 Rhode Islanders know there's much more going on here than just picturesque views and quiet coastal living. They understand that the state's Atlantic seaboard location is key to operating as a critical link in domestic and global supply chains.
The CEO-led coalition, Business Roundtable, estimates that approximately 75% of the world's purchasing power is outside the U.S. The domestic supply chain is inextricably linked to global trade, and vice versa, and Rhode Island's unique locale positions it as an outsized player in global commerce. It's the ace-in-the-hole that gives suppliers, manufacturers, and distributors access to international markets, as well as the goods and components coming from overseas.
It's no surprise, then, that Rhode Island businesses across all industries have structured their supply chains around shipping ports. In 2022, the Observatory of Economic Complexity found that the state exported nearly $290 billion in goods, with diverse commodities including everything from precious metals to immunological products. Clearly, Rhode Island's supply chain and logistics operations have read the tea leaves, strategically diversifying to meet the demands of markets both on and offshore. The level of analysis it takes to pull that off, and the skills to connect the logistical dots where the rubber meets the road and the barge hulls meet the water is something that only comes with a degree in logistics and supply chain management.
Global Supply Chains Runs Right Through the Port of Davisville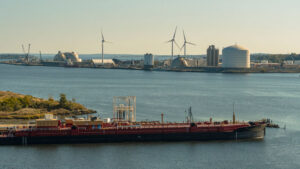 The Port of Davisville is one of the busiest in the Northeast, known as the biggest small port in the U.S. And, the surrounding infrastructure is second to none, with the capacity to move materials by land, sea, rail, and air.
The port boasts 14 miles of rail track on which materials move seamlessly throughout the port, directly link up with the state's Freight Rail Improvement Project (FRIP) track and then connect to the national rail network.
At the Port of Davisville, you'll find operations for organizations like North Atlantic Distribution (NORAD). NORAD processes more than 2 million vehicles through the port every year, working with manufacturers like Chrysler, Ford, and Nissan. It's also one of the largest auto processors in the United States, creating local jobs for logistics professionals skilled in everything from logistics coordination to inventory analysis to warehouse management.
With this type of interconnectivity, it's not surprising that the Port of Davisville is one of the top auto ports along the East Coast.
Whether you're starting a new career path and interested in a bachelor's degree in supply chain management or aiming for the professional clout that only a master's, MBA, or post-degree certificate in SCM can assure, online options available in Rhode Island have you covered.
What Does a Supply Chain Manager Do in Rhode Island?
From start to finish, supply chain management professionals utilize their skills to ensure a seamless flow of goods and services that keep business running and the economy humming. In Rhode Island, you'll find that a uniquely designed infrastructure combined with a strategic coastal location and access to in-demand products are the perfect recipe for a successful career in supply chain management.
When looking for supply chain management jobs, be sure to check out trade-related organizations. A Business Roundtable report found that in 2018 international trade accounted for more than one in five jobs in Rhode Island. The report highlighted the fact that these jobs grew eight times faster than other occupations and grossed 16% more.
This isn't the only industry commanding attention and bankrolling the state's economy, though. Warehouse distribution facilities are popping up all over the state. Businesses in Rhode Island have a distinct advantage – they can reach 60 million households with one-day ground shipping! This is very likely one of the key buy-ins bringing new business, and SCM jobs, to the state.
For example, Kansas City-based NorthPoint Development is just one of the many distribution facilities investing here. The organization has plans to build a 47-acre warehouse distribution facility along the I-95 gateway in Warwick, directly connecting it with the 12 million residents living within the 100-mile radius surrounding it. Warwick is equipped with local highway and airport access, making one-day turnaround time to major cities like New York a major selling point. Distribution facilities like this will need well-prepared SCM professionals to maximize these advantages. You can expect opportunities to be high for titles like distribution specialist, material planner, logistics manager, warehouse manager, and purchasing manager.
Supply Chain Management Schools – Universities in Rhode Island Offering Degrees in SCM Online and On-Campus
There's no doubt that a formal degree in supply chain management will help you stand out in the crowd. With a firm grasp of local supply chain management processes here in Rhode Island, you'll be prepared to lead in key management roles, take on logistical challenges, and implement plans to improve the efficiency of your organization's SCM processes.
Here is a list of universities in Rhode Island offering degrees in SCM online and on-campus:
College of Business
Accreditation: NECHE
Campus

Johnson & Wales University
College of Professional Studies
Accreditation: NECHE
Online, hybrid