South Dakota's very central geographic location gives manufacturers, suppliers, and distributors alike access to a vast infrastructure network. The state's network of interstate highways, 1,800-plus miles of railway, and proximity to major metropolitan areas and seven airports keep it interconnected and open for business. Key roadways like Corridor 23 flanking the state's eastern border up to Canada and the Theodore Roosevelt Expressway connecting with Montana, North Dakota, and Canada are major players in keeping its supply chain connected locally, nationally, and globally.
Agriculture Accounts for More Than $32 Billion of South Dakota's Overall Economy and Makes Up One-third of the State's Economic Output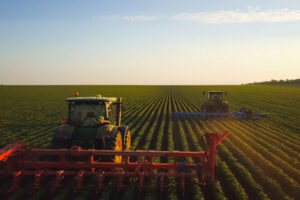 Most out-of-towners know South Dakota for its earthy scenery, historic sites, and rich Native American history. In fact, sites like Mount Rushmore and Badlands National Park are some of the state's most recognized tourist spots. The state's Native American history runs deep, too. South Dakota's name, in fact, is derived from the Lakota and Dakota Sioux Native American tribes. Today, the state is still home to nine tribal reservations. Locals know that tourism isn't all that South Dakota has to offer, though. Locals understand that the state's geographic location and heavy agriculture base make it a top supply chain competitor.
Agriculture is, without a doubt, the state's leading industry with the top commodities in corn, soybeans, and wheat. According to South Dakota Governor, Kristi Noem, agriculture accounts for more than $32 billion of the state's overall economy and makes up one-third of the state's economic output. Indeed, according to the United States Department of Agriculture (USDA), in 2017 South Dakota was home to the sixth most corn acreage in the nation, with more than five million acres planted across the state. No single industry relies more on the state's transportation system than agriculture.
Of course, it's no secret that the prices of fertilizer, seed, and equipment have increased. Keeping the agricultural supply chain running efficiently and effectively without gaps is essential to the state's economy. Here, in South Dakota, the USDA's Agricultural Marketing Service has partnered with the South Dakota Department of Agriculture and Natural Resources (DANR) to create the Resilient Food Systems Infrastructure program (RFSI). The purpose of this initiative is to fill supply chain gaps, ensure a resilient food supply system, and bolster support for farm businesses and food producers. With the RFSI initiative, South Dakota is slated to receive $3.2 million in grants to support things like manufacturing, processing, transportation, and distribution of agricultural goods.
South Dakota's geographic location, connected infrastructure, and heavy agriculture base make it a hotspot of both economic and professional opportunity. You can be sure that degree-prepared supply chain management professionals who can manage and streamline complex SCM systems are only growing in demand. Whether you're charting a new career path and interested in a bachelor's degree in supply chain management, or seeking the professional advancement that only a master's, MBA, or post-degree certificate in SCM can provide, you can be sure you'll find incredible opportunity here in South Dakota.
What Does a Supply Chain Manager Do in South Dakota?
Supply chain management professionals are essential to any high-functioning business operation. Utilizing skills in product procurement, logistics coordination, and inventory management, SCM professionals are quite literally the force that keeps goods and services flowing seamlessly. Here, in South Dakota, dynamic infrastructure combined with a strong agricultural base lays the foundation for a lucrative career in supply chain management.
When looking for SCM jobs in South Dakota, be sure to check out Agtegra Cooperative in Aberdeen. It's one of the state's largest ag employers. This 7,000-member, farmer-owned cooperative has more than 70 locations and remains committed to supporting everything from feed to farm and energy supply. In fact, Agtegra is unique in that it actively partners with local colleges to bring experience and internship opportunities to students interested in ag production and precision technologies. You can expect that a large cooperative like this would be in high demand of SCM professionals trained in material planning, logistics, and warehousing.
Simplot Grower Solutions (SGS) out of Aberdeen is another large revenue-producing economic staple of South Dakota. The organization offers a slew of exclusive products, including fertilizer and pesticide, and utilizes cutting-edge technology to support its customer base. SGS has seen major growth recently. In fact, in January of this year, SGS expanded into the Canadian agricultural market. You can expect that highly trained supply chain professionals will be needed to manage key areas like purchasing, procurement, logistics, and inventory analysis.
Supply Chain Management Schools – Universities in South Dakota Offering Degrees in SCM Online and On-Campus
The importance of having a formal degree in supply chain management cannot be overstated. It's what separates the amateurs from the professionals. With a strong understanding of South Dakota's supply chain processes, you'll be ready to lead in a management role, tackle logistics challenges head on, and bring a fresh outlook to streamlining your organization's supply chain operations.
Here is a list of universities in South Dakota offering degrees in SCM online and on-campus:
National American University
Harold D. Buckingham Graduate School
Accreditation: HLC
Online
Master of Management with an Operations and Configuration Management specialization
University of South Dakota
Beacom School of Business
Accreditation: HLC
Online

MBA with an Operations and Supply Chain Management specialization