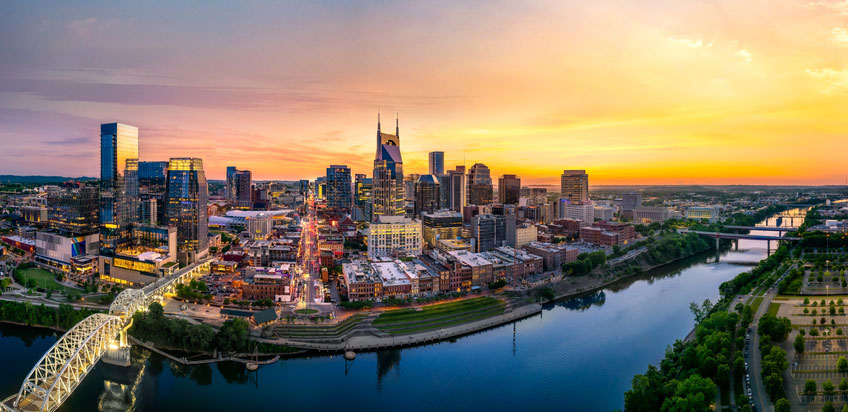 Out-of-towners tend to think of Tennessee as mostly spacious fields among winding country roads in single gas station towns. Sure, there are towns that you can cross in less than a minute by foot, but locals know there's a lot more going on here, including a surprising level of global interconnectedness. While it may seem like its land-locked position would hinder the state's capacity for commerce and limit its participation in global supply chains, nothing could be further from the truth.
In fact, Tennessee's central location and strong manufacturing and agricultural sectors make it a hub of supply chain activity. Every year the state exports nearly $300 billion worth of goods, as reported by the Tennessee Department of Transportation, with the top commodities being electronics ($89 billion), vehicles ($67.6 billion), and pharmaceuticals ($61.5 billion). Memphis and Nashville not only contribute to Tennessee's status as the number two state for doing business, but also show that there are more lucrative advantages here than logistical barriers.
Consider the fact that an astounding 50% of the nation's population lives within a 650-mile radius of Nashville, and within that radius is access to an additional 24 states…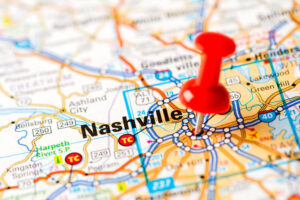 These geographic advantages allow suppliers, distributors, and manufacturers alike to achieve one- to two-day deliveries to 75% of U.S. markets.
In West Tennessee, it's Memphis that commands attention and leads the way. Its infrastructure is equipped for delivery by air, water, rail, and truck, so it certainly has a lot to boast about. Not only is Memphis the fifth largest inland port in the United States, it's also home to the busiest cargo airport in the nation and second busiest in the world. It's home to the third busiest trucking corridor in the nation – Interstate 40 – and, as a matter of fact, businesses in Memphis can reach 90% of the world's GDP within 3 days.
The supply chain management industry here in Tennessee is lucrative, competitive, and ripe for growth. It's locally supported, nationally recognized, and globally connected. It has all the raw ingredients for success.
Of course, none of this is of any value without the right professionals to manage it. Whether you're looking to a start your career with a bachelor's degree in supply chain management or contemplating the professional advancement that only a master's, MBA, or post-degree certificate in SCM can bring, you'll find that there's every opportunity for you right here in Tennessee supply chain.
What Does a Supply Chain Manager Do in Tennessee?
Here, in Tennessee, you'll find the right mix of infrastructure, new business development, and global interconnectedness to set off your career in supply chain management. With large distribution centers for Nike and Williams Sonoma out of Memphis, you'll find a wealth of SCM job opportunities in areas like logistics coordination, inventory analysis, purchasing management, warehouse management, procurement, and operations. Of course, it's a bachelor's, master's, or MBA in supply chain management that make lucrative job opportunities like these available to you.
When looking for supply chain manager jobs, you'll want to pay extra attention to Tennessee's hot spot – Memphis. It's truly unmatched in its infrastructure for transportation and logistics, making it highly attractive to raw goods producers, manufacturers, and distributors alike. In fact, it's home to three Fortune 500 companies – FedEx, AutoZone, and International Paper – and lays claim as the FedEx and UPS World Headquarters as well. This layout makes West Tennessee a critical piece of the globally interconnected logistics network surrounding it. You can expect businesses in this area to be heavily reliant on the education, skills, and expertise that only a degree-prepared supply chain management professional can deliver.
You'll find no shortage of opportunities in Nashville too. Automotive manufacturing is one of the area's leading industries with nearby manufacturing plants for General Motors, Mitsubishi, Nissan, and Toyota as well as component suppliers like Bridgestone. Supply chain managers highly skilled in supplier relations are key in this sector, particularly given its global reliance on raw products.
Another one of Nashville's standouts is it's deep connection with the nation's rail system. From this central location, shipments can be made directly to Memphis, Atlanta, and Jacksonville as contact points for the rest of the country and even Canada. Given its critical role in Tennessee's infrastructure, it's not surprising that the Tennessee Department of Transportation (TDOT) received more than $10 million in Rail Rehabilitation Grants to improve railway conditions, expand connectivity, and strengthen railroad networks across the state.
There's no doubt that it'll take a degree in supply chain management to be the standout candidate capable of navigating and streamlining within this complex transportation network.
Supply Chain Management Schools – Universities in Tennessee Offering Degrees in SCM Online and On-Campus
Having that formal degree in supply chain management will brand you an industry expert. With an in-depth understanding of SCM processes here in Tennessee, you'll be ready to tackle logistics challenges, streamline SCM systems, and improve your organization's bottom line, both at home and abroad.
Here is a list of universities in Tennessee offering degrees in SCM online and on-campus:
The University of Tennessee Knoxville
Haslam College of Business
Accreditation: SACSCOC
Campus, online

Fogelman College of Business and Economics
Accreditation: SACSCOC
Campus, online