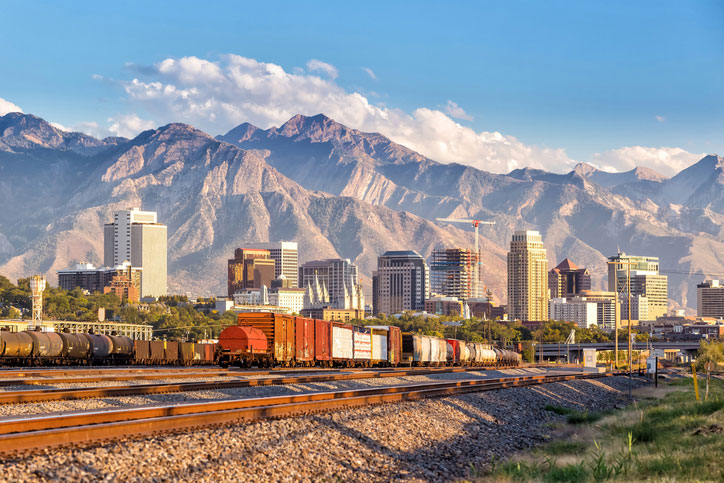 From Utah's early days as a leading producer of dynamite to today's robust carbon fiber and composite manufacturing efforts, the state has had a reputation for being a leader in advanced manufacturing. Because Utah is a state built on advanced manufacturing, legislators and private industry know all too well that a break or bottleneck in the supply chain can wreak havoc on the delicate network on which the sector is built.
Reshoring — the practice of returning overseas manufacturing back to the U.S. where it was first manufactured — has become an important buzzword in Utah in recent years, and for good reason. COVID taught the state just how fragile a supply chain can become when it relies on foreign companies.
With a focus on ensuring that history doesn't repeat itself, the Utah State legislature passed the $10-million Utah Manufacturing Modernization Grant Program (MMGP), which provides grants to businesses in the key industry clusters of defense, aerospace, energy, and advanced materials. These companies are either working to keep their manufacturing efforts in-state or otherwise looking to move offshore manufacturing back to Utah.
These incentives are designed to reward businesses who want to establish, rebuild, modernize, or maintain their manufacturing efforts. The goal of this program is clear: keep manufacturing in-state to streamline and strengthen the supply chain and decrease dependence on foreign manufacturing.
The MMCP is administered by the Governor's Office of Economic Opportunity (Go Utah), which has contracted with the Utah Advanced Materials and Manufacturing Initiative (UAMMI) to identify companies who may qualify for the program. UAMMI also follows the progress of companies who have received funds through MMCP.
Whether you're a newcomer to the supply chain management field or you're already building your career in it, the initiatives and material investments taking place here right now will mean more opportunities than ever to make your mark.
From bachelor's degrees to master's degrees to post-master's certificate programs, Utah is home to an exciting array of programs designed for all career stages. Whether you're looking to gain the necessary knowledge and skills to assume entry-level management jobs in logistics management, or a mid-career professional ready to take it the next level with an MBA in Supply Chain Management, there are online and campus-based options right here in Utah built with you in mind.
How Strong Infrastructure and Reliable Supply Chains Turned Utah into a Commerce Giant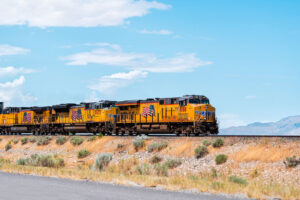 Utah is a hub of commerce. Despite being a landlocked state, Utah's supply chains move smoothly between both Canada and the western U.S. through a robust and efficient system of interstates, highways, rail lines, airports, and intermodal facilities. Plus, thanks to its proximity to California's ports, Utah has reliable access to Pacific Rim markets.
Utah's top trading partners include California, Missouri, Idaho, Texas, and Arizona, although the lion's share of freight movement remains in the state.
Some of the top commodities (by value) that travel by freight in Utah include:
Base metals
Machinery
Motorized vehicles
Pharmaceuticals
Electronics
Other foodstuffs
Miscellaneous manufactured products
What does Utah's infrastructure look like? It includes:
6,000 miles of state-maintained highways
3,717 bridges
1,343 miles of freight rail, including Union Pacific Railroad's Salt Lake City Intermodal Terminal, the primary intermodal terminal in the Mountain West
One international airport (Salt Lake City International Airport) and 46 public use airports, including regional air cargo operations in St. George, Cedar City, Moab, Logan, Price, Vernal, and Wendover
5,000 miles of pipeline for oil and natural gas
What Does a Supply Chain Manager Do in Utah?
Supply chain management jobs go hand in hand with economic opportunities. And in Utah, a state known for its highly skilled workforce, business-friendly environment (it's consistently ranked among the top states for business by Forbes), and fiscally responsible government, opportunities to enter the field of supply chain management and work your way up the career ladder are plentiful and exciting.
Advanced industries, which have long made their home in Utah – specifically Northern Utah (the Ogden-Clearfield metro areas ranks among the top metropolitan areas for advanced industries in the U.S.), serve as a hotbed of opportunities in supply chain management. Just some of the prominent industry segments include 3D printing, additive manufacturing, and the production of materials with new properties (structural, thermal, electrical, chemical, photonic). In the Ogden-Clearfield metro area, manufacturing efforts are largely focused on aerospace, defense, automotive, medical devices, and outdoor products.
Specialized manufacturing also takes place throughout the larger Northern Utah region, with advanced composite, material, and product manufacturing dominating the market. Just some of the companies here include ENVE Composites, Parker Hannifin, Fresenius, Williams International, KIHOMAC, and Autoliv.
These burgeoning markets rely on resilient, efficient supply chains to produce everything from carbon fiber parts for F-35 fighter planes to aerospace components to jet and rocket engines. The advanced industries in Utah account for about 18 percent of the total economic output for the state, while also indirectly supporting another 100,000 jobs.
Utah is just one of seven states in the nation where more than 10 percent of all workers are employed in advanced manufacturing. A strong network of support through organizations like UAMMI has allowed the advanced manufacturing sector to grow and expand.
For example, the aerospace and defense industry is supported by the presence of Hill Air Force Base in Northern Utah, the second largest air force base in the nation by population and size. And thanks to a collaboration between the Air Force, industry leaders, and state and local government, the Falcon Hill Aerospace Research Park has become the home to massive corporations like Northrop Grumman. The Ogden Air Logistics Complex, located at HAFB, is one of the leading providers of weapons systems, including fighter aircraft.
From logistics analysts to inventory managers to warehouse supervisors to procurement specialists, professionals in supply chain management are valued at all levels and segments of the supply chain. For Utah's advanced materials and manufacturing companies, these professionals ensure the safe, effective, and efficient flow of materials and goods from creation to delivery.
While the industries that support advanced manufacturing represent a large share of the manufacturing sector in Utah, they're not the only ones. There are countless Utah industries where you'll find plentiful opportunities for growing your career in supply chain management. The following industries represent the largest share of the manufacturing sector:
Supply Chain Management Schools – Universities in Utah Offering Degrees in SCM Online and On-Campus
Utah's booming advanced manufacturing sector is bound to present exciting opportunities in supply chain management, regardless of whether you're pursuing your first entry-level supervisor job, or you have your sights set on a C-suite position with a major player like Northrop Grumman in Corinne, Vivint in Provo, or L3Harris Technologies in Salt Lake City.
To enter or advance in this field, chances are you'll need the skills and knowledge that come with a degree. Bachelor's degrees provide a superb overview of supply chain management, preparing students to become adept managers of projects, programs, and supply chains. Students of these programs study scheduling, operations, logistics, purchasing, and distribution and take courses in finance, accounting, HR management, operations planning and control, and much more.
Master's degrees and post-master's certificate programs are ideal for currently practicing supply chain managers and leaders and career changers who have already earned a bachelor's degree in another field. For example, an MBA in Supply Chain Management offers a robust business foundation and an exploration of how business decisions affect the supply chain. Many of these programs offer creative, hands-on learning environments that are led by industry experts. International study, case studies, and other experiential learning opportunities allow students to begin applying what they've learned in real environments.
Whether a bachelor's or master's degree is right for you, you'll find a growing number of programs, both in Utah and across the country, that align perfectly with your career goals. Best of all, many colleges and universities offer these programs through partially or fully online formats for outstanding convenience and flexibility.
David Eccles School of Business
Accreditation: NWCCU
Campus, online