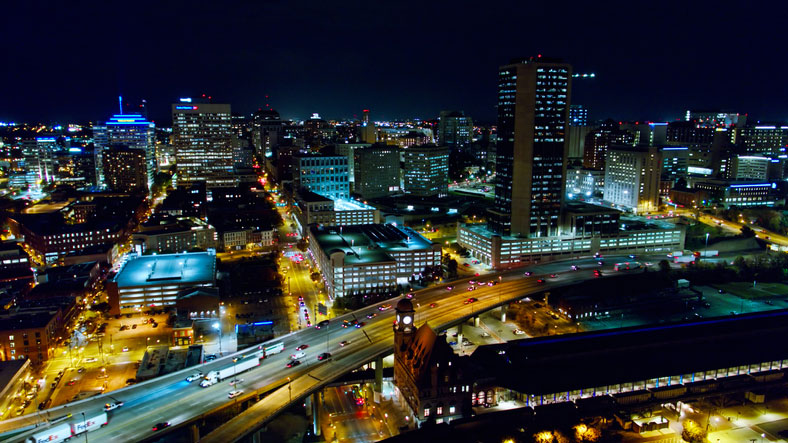 Virginia has long served as a model of supply chain innovation, inspiring national and global industry leaders to call the state home. From small regional companies to retail giants like Amazon, Aldi, Walmart, and Dollar Tree, Virginia is the ideal environment in which to build or reap the benefits of a well-connected supply chain. In fact, more than 4,600 supply chain operations are found here. And since 2013, more than 200 supply chain projects have emerged, representing more than 24,000 jobs.
Take Amazon's latest developments in Virginia. In 2022, they launched two major fulfillment and processing facilities. The first is a $230-million state-of-the-art fulfillment center. At more than 3.8 million square feet, it's the first of its kind in Virginia. It employs about 1,500 people who work alongside robots to pack and ship orders. The other equally ambitious project in Chesapeake involves a $50 million, 640,000-square-foot import processing center that employs about 1,000 people.
Amazon first launched operations in Sterling, Virginia, in 2006. Since 2010, Amazon has set out to operate a variety of fulfillment centers, cloud infrastructure, and research facilities here, all of which represent an investment of about $34 billion. Today, Amazon accounts for about 30,000 direct and more than 96,000 indirect jobs in Virginia.
And in May 2023, Amazon opened the first phase of its second headquarters in Arlington. This massive investment is expected to result in another 25,000 jobs by 2030.
Whether your sights are set on production, procurement, operations, distribution, or beyond, strong career opportunities in supply chain management abound in Virginia. It's easier than ever to prepare for an exciting career in this growing field, thanks to a growing number of undergraduate and graduate degrees. From bachelor's degrees in supply chain management for newcomers to the field to master's degrees and post-master's certificates for career changers and existing supply chain managers and leaders, there are no shortage of degrees and post-degree programs to help you reach your career goals in Virginia.
The Port of Virginia: A Direct Link to the Global Marketplace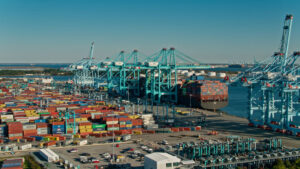 The Port of Virginia is a titan. It's one of the most advanced ports of its kind, providing unparalleled modernity and efficiency. Not surprisingly, it was named the Top Performing Port in North America by the World Bank.
It has six terminals, including four deep water terminals. It's also home to 40 international shipping line services that offer direct weekly access to more than 90 foreign ports.
But the Port of Virginia isn't done yet making big moves – not by a long shot.
A $1.4 billion modernization and expansion project will create the deepest and widest commercial shipping channels on the East Coast by 2024, thereby accommodating the largest container vessel traffic. The project involves dredging the channels by 55 feet, which will make it the East Coast's deepest harbor by 2024.
This expansion project is coming on the heels of the port's most successful year to date. In 2022, it handled 3.7 million TEUs (twenty-foot-long cargo containers) – that's a record for the port and a 5.1 percent increase compared to 2021.
Port of Virginia Fast Facts:
Handles the largest percentage of rail arrivals and departures on the East Coast
Offers direct services for more than 45 countries
Home to 26 Suez-class ship-to-shore cranes port-wide
Boasts the largest intermodal rail port on the East Coast
Located just 2.5 miles to the open sea
Responsible for nearly 400,000 jobs (that's nearly 10 percent of the state's workforce)
Serves 16 Midwest and southeast inland points by rail
Features seven miles of on-dock rail track and Two Class I railroads
What Does a Supply Chain Manager Do in Virginia?
From manufacturing to warehousing to freight transportation and beyond, Virginia is a hub for supply chain operations and a home to exciting careers in supply chain management. And here's why:
Virgina's outstanding infrastructure, talented workforce, and solid supply chains have encouraged business and industry to continue to make commitments in the Commonwealth. For example, the advanced manufacturing sector has experienced meteoric growth.
Manufacturing has long been a mainstay in Virginia, though textile, apparel, and furniture manufacturing has largely faded in the last few decades, allowing advanced manufacturing to take its place throughout the state:
Supply Chain Management Schools – Universities in Virginia Offering Degrees in SCM Online and On-Campus
From demand planners, who evaluate the current market and predict future demands… to supply chain analysts, who improve the efficiency of the supply chain by collecting and studying data… to operations managers, who direct and coordinate all activities associated with the production, sales, and distribution of products, roles in supply chain management are as plentiful as you'd imagine.
Whether at the entry level or the C-suite level, careers in supply chain management require a specific skillset that is most often grounded in a solid supply chain management degree. If you're just entering the field or exploring ways to land your first supply chain management position, a bachelor's degree is right for you. These programs offer a comprehensive overview of the supply chain field to prepare you for jobs in manufacturing, distribution, logistics, warehousing, and retail.
Just some of the courses you'll find in supply chain management bachelor's degrees include accounting principles, business statistics, financial management, business ethics, leadership development, and global supply chain management.
Master's degrees in supply chain management, which are most often designed as Master of Science (MS) or MBA programs, provide a deeper exploration of the field and how it relates to everything from marketing to human resources to global business to accounting. These programs, designed to suit practicing supply chain managers and career changers, are taught by experts in the field. Hands-on opportunities often include international study, case studies, group projects, and internships with leading companies.
You're sure to love the outstanding variety of bachelor's and master's degrees in supply chain management, both in Virginia and across the country. You'll also love the convenience and flexibility that many programs offer through partially or fully online formats. These programs offer a clear path to a degree in supply chain management, regardless of your professional obligations or geographical limitations.
Strome College of Business
Accreditation: SACSCOC
Campus, online

Virginia Commonwealth University
School of Business
Accreditation: SACSCOC
Campus, online