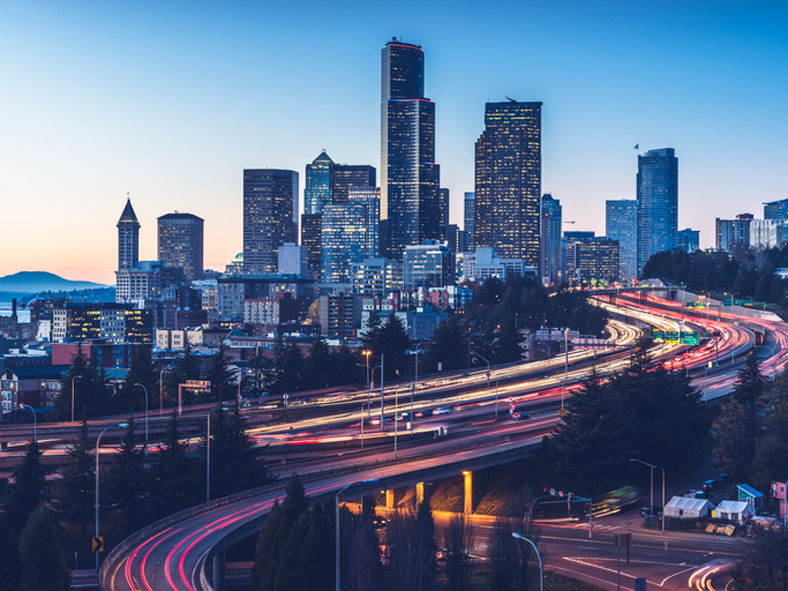 Washington State has built a diversified economy which ranks among the top in the nation. And it's no wonder. Washingtonians are a resilient bunch with a pioneering spirit, always focused on innovation and the next big thing.
During the days of WWII, the state's production of plutonium for the Manhattan Project earned it national attention and an influx of new residents to what was, at the time, one of the last frontiers of the lower 48. But by the 1970s, Washington's economy took a nosedive due to cancelled government contracts and massive layoffs. A now-infamous billboard here described it best: "Will the last one leaving Seattle – turn out the lights."
But Washington wasn't going down that easily, and it soon reemerged as a technology powerhouse. Thanks to the aerospace boom here, Washington had a big population of engineers and other tech workers who were equipped to build all new businesses and industries. And build they did. Massive players were either born here or set up shop, the likes of Microsoft, Facebook, SpaceX, Amazon, Google, and Apple are now hometown names, and technology-based startups became as common here as Seattle's famed coffee houses. From medical device manufacturers to artificial intelligence to robotics to electric propulsion, Washington is where innovation and invention come together in the most brilliant way possible.
A robust, expansive infrastructure… solid, dependable supply chains that offer unparalleled access to both domestic and overseas partners… a highly skilled workforce… groundbreaking R&D… and unmatched partnerships in key industries – together it's allowed sectors like clean energy, communication technology, and advanced manufacturing to thrive. And along with it all, so too have careers in supply chain management.
Washington State's culture of creativity and innovation has translated into exceptional opportunities to either get your feet wet or rise through the ranks in supply chain management. Whether your career goals include entering this exciting field or earning that coveted C-suite position, supply chain management degrees provide the foundation you'll need to take the supply chain management field by storm.
Just How Important Is Washington's Freight System?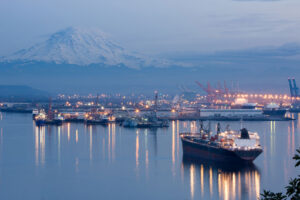 You simply can't talk about supply chain systems in Washington State without mentioning the muscle behind them. The state's freight system is just as impressive as you'd imagine, moving products and services in-state, across the country, and even across the globe.
In 2022, Washington's freight system moved 603 million tons of cargo valued at $707 billion. The state's multimodal transportation system includes roads, railroads, ports and waterways, intermodal facilities, airports, pipelines, and logistics facilities.
Freight-dependent businesses (manufacturers, wholesalers, retail businesses, etc.) employ about 45 percent of all the state's workforce (about 1.5 million people). Together, these businesses are responsible for about $212 billion of the state's GDP – that's about 35 percent of the total GDP.
Business flows easily in Washington State, thanks to:
Nonstop flights from international airports to places like London, Frankfurt, Mexico City, Montreal, Reykjavik, Seoul, Singapore, Tokyo, and more
Key thoroughfares, including I-5, which runs north-south from Canada to Mexico, and I-90, which runs east-west between the Pacific and Atlantic Coasts
Efficient light rail, passenger train, and ferry systems
75 public ports, including the Port of Seattle and the Port of Tacoma
The Seattle-Tacoma International Airport, which offers flights to 28 international destinations
139 regional airports
11 foreign trade zones (FTZs)
Not surprising, most of the state's freight clusters (identified as key geographic activity centers of freight-related businesses) are located along the I-5 corridor in the Puget Sound region from Tacoma to Everett. Other hot spots include the metro areas of Bellingham, Spokane, Yakima, Kennewick, and Portland-Vancouver.
Given Washington's prime Northwest location, exports here are a big deal, particularly to Asian and European markets. In 2022 alone, more than 12,000 businesses in Washington shipped $61 billion in goods worldwide. Just some of the major goods exported include timber, wine, software, and aircraft. One in three jobs and nearly one-third of the state's economy is attributed to exports.
What Does a Supply Chain Manager Do in Washington?
Washington is a state for the movers and shakers, the next big thing, and loads of exciting opportunities in supply chain management. It's consistently named among the top states in the nation for innovation, for its economy, and for business and the careers that come along with it:
Eastern Washington remains the state's agricultural center, although it's also become a hot spot for clean technology and advanced manufacturing. Western Washington serves as the state's aerospace hub, while the Puget Sound region is anchored by big tech companies focused on information and communication technology. In fact, the Puget Sound region has grown to become the second largest tech cluster in the nation, just behind Silicon Valley.
Seattle's darlings are many, but the biggest include Amazon, Starbucks, and Deloitte Digital. Microsoft is Redmond's staple, while Bellevue is home to big names like T-Mobile, Expedia, and Verizon.
Purchasing, manufacturing, inventory management, demand planning, transportation, warehousing, transportation, and customer service – whichever segment of the supply chain you're flexing your skills in, exciting opportunities await you in Washington's high-growth industry sectors:
Aerospace  
Aerospace in Washington State is a $70 billion industry that supports more than 250,000 jobs.
Though conventional aircraft production remains a big player in Washington's economy, it's been joined by new innovations in space, electric, hydrogen, and hybrid-powered aircraft. Today, Washington's aerospace sector encompasses avionics, aerostructures, composites, advanced materials, communication technologies, next generation aircraft systems, space exploration, and more. It's home to more than 1,500 related suppliers and vendors and is currently the largest supply chain in the U.S. for Airbus. Washington has been ranked first in the nation for exports, sales, and employment in aerospace for more than a decade.
Agriculture/Food Manufacturing
Ranked second in the nation for its agriculture production, Washington boasts more than 15 million acres of farmland that produces no less than 300 different crops. Agriculture here is a $20 billion industry that supports about 164,000 jobs. Washington is the top producer of apples, blueberries, pears, sweet cherries, spearmint oil, and hops and is the second largest producer of wine in the U.S.
Crop production here is efficient and cost-effective, thanks to artificial intelligence, drones, and a new generation of robotic technologies that decrease the need for manual farming. About one-third of all agricultural goods produced here are exported, largely to Asian markets.
Clean Technology
There may be no better place to explore clean technology than Washington State. Currently, the state produces about 73% of its power from clean energy sources but has made an ambitious pledge to become 100% reliant on clean energy by 2045. Innovation in clean energy is the goal, with new technologies in solar, wind, hydrogen, biomass, and tidal energy at the forefront of their efforts.
Forest Products
The forest industry has been a staple of Washington State for generations. Today, it's the third largest industry in the state, with about 1,700 related businesses calling Washington home. This $36 billion industry is sustained by smart timber management practices and advances in growth strategies.
Maritime
With more than 50,000 miles of waterways, 3,000 miles of shoreline, and a Pacific Coast location, Washington has always enjoyed a thriving maritime industry. This $21 billion industry, which includes 2,300 companies and nearly 70,000 workers, encompasses everything from maritime logistics and shipping to ship and boat building to commercial fishing and seafood production.
Information and Communication Technology
Microsoft, Amazon, Zillow, Expedia, Facebook, Google, Twitter, eBay… the list of information and technology companies in Washington reads like a who's who of American ingenuity and innovation. A whopping 18,000 information and communication technology companies call Washington home. This $138 billion sector accounts for nearly a quarter of the state's economy — the highest percentage in the U.S. — and employs more than 350,000 people. Just some of the newest innovations to come out of this sector include augmented/virtual reality, artificial intelligence, quantum computing, and cloud computing.
Washington is also the top exporter of tech products and services in the U.S., with gaming coming out on top. More than 23,000 people in the state work in the gaming industry for big names like Microsoft, Nintendo, and Big Fish.
Supply Chain Management Schools – Universities in Washington Offering Degrees in SCM Online and On-Campus
From the newest tech startups to national names like Starbucks and Expedia, Washington's diverse economy and unwavering focus on innovation makes it the perfect spot to settle down and explore a career in supply chain management.
But before you can get your foot in the door and make a name for yourself, you'll need a solid foundation in the field. Bachelor's degrees in supply chain management provide newcomers with a comprehensive overview of how to maximize efficiency in the supply chain. These programs explore the theories and techniques that can be applied to all areas of business through courses in financial accounting, macroeconomics, and quantitative business analysis. Major coursework includes study in marketing, organizational business, project management, integrated supply chain management, and more.
Master's degrees and post-master's certificate programs are ideal pursuits for career changers and currently practicing supply chain managers who want to elevate their skillset and boost their earning potential. MBA and Master of Science (MS) programs provide a deeper exploration of the field, often featuring study in areas like negotiation, logistics management, strategic supply chain management, and international supply chain management.
Many supply chain management graduate programs are taught by experts in the field, and many more offer a variety of experiences, both in the classroom and in real-world settings. International study, case studies, job shadowing opportunities, and professional mentorships are just some of the perks of these programs.
Whether you have plans to pursue a bachelor's or master's degree in supply chain management, you'll find a variety of programs in Washington that are sure to align with your career goals. Plus, many colleges and universities, both in Washington and across the country, now offer these programs in partially or fully online formats to accommodate your busy, professional schedule and geographical limitations.
City University of Seattle
Accreditation: NWCCU
Campus, hybrid, online

Pacific Lutheran University
School of Business
Accreditation: NWCCU
Campus